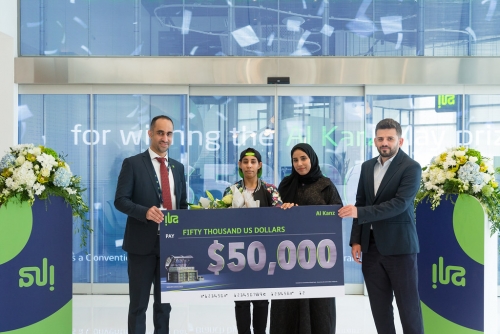 ila Bank grants May Al Kanz winner US$50,000 cash prize
TDT | Manama
The Daily Tribune – www.newsofbahrain.com
ila Bank, the fastest growing digital mobile-only bank in the region, announced Sara Khalifa Al Hussaini as the winner of US$50,000 May Al Kanz.
Commenting on Sara's behalf at the prize-handover celebration held at ila Bank, her sister Muna Al Hussaini said: "I was thrilled and at the same time quite surprised to hear this news. Sara really deserves to win this prize. She has been through a lot in her life, but always with a lovely smile on her face. The money will be used to help her live comfortably and fulfil all her needs. "
"Since opening an ila Bank account, Sara has been depositing all her savings into Al Kanz. The prize money will be maintained in her Al Kanz account and hopefully she will win again. My family and I love ila's products and services and wouldn't change a thing about our experience so far. "
Coming up next, the June Al Kanz prize of US120,000, paid as a US$10,000 monthly salary for one year, will be announced on August 4th, 2022. Arabic for the word treasure, Al Kanz reflects ila's promise to propel users on a journey 'towards' their life goals and financial aspirations.