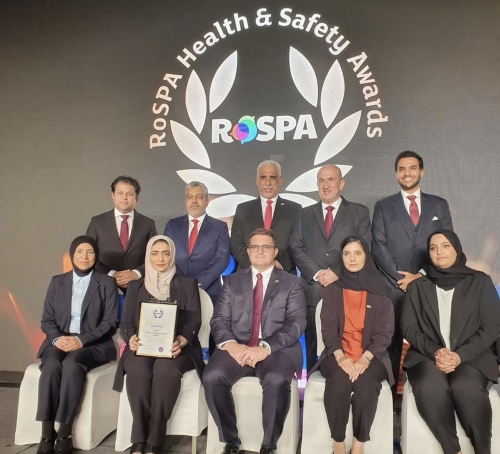 TDT | Manama
The Daily Tribune – www.newsofbahrain.com
In a new achievement of excellence in its occupational safety culture and the application of international safety standards and best practices, BAPCO obtained the Gold Medal Award of the Royal Society for the Prevention of Accidents (RoSPA).
At a ceremony held on Monday in Dubai, UAE, Acting Deputy Chief Executive Technical and Bapco Modernization Programme Project Director, Hafedh Al-Qassab received the RoSPA Gold Medal Award on behalf of BAPCO.
Bapco Chief Executive Officer, Dr Abdulrahman Jawahery praised the continuous support and guidance of the Chairman of BAPCO's Board of Directors, Abdulla Jehad AlZain, for his attention to occupational safety standards.
Moreover, Dr Jawahery said winning this award reflected the highly regarded "Safety First" approach of the Board of Directors and confirms the safety-awareness culture of BAPCO's workforce.
Dr Jawahery praised the remarkable awareness of the Bapco team, through providing the best training courses for the employees in order to qualify and enable them to adopt and practice international safety standards.
"Our priority in BAPCO is to protect our employees from occupational hazards." The Royal Society for the Prevention of Accidents (RoSPA) is a recognized international organization for lifesaving and for the prevention of accidents It is worth mentioning that RoSPA had selected Dr Abdulrahman Jawahery as an Ambassador for its Awards upon the creation of this position in recognition of him being one of the most successful and distinguished personalities.
More than 2,000 companies compete among themselves to win the tremendous awards given by RoSPA, of which Safety and Health Awards are the best prizes in both the United Kingdom and the world.