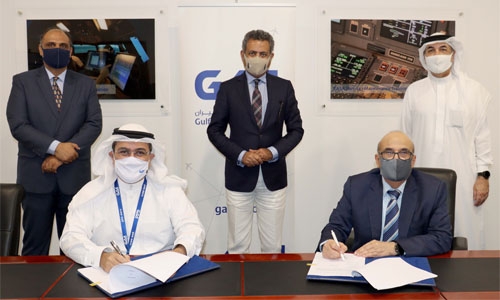 GAA, Atyaf sign deal for 'AVR' training solutions
TDT | Manama
The Daily Tribune – www.newsofbahrain.com
Gulf Aviation Academy, a leading Bahrain-based aviation and logistics training institution, has announced a partnership with Atyaf eSolutions, one of the regional leaders in information technology solutions and services, to offer Augmented and Virtual Reality (AVR) training solutions.
Signed on 22 June 2021, the partnership aims to establish Bahrain as a leading AVR training hub in the region, by creating highly immersive solutions with maximum realism for the aviation sector, as well as other sectors.
The partnership will offer custom AVR solutions to several sectors and establish an online marketplace to offer a bouquet of general AVR courses. GAA CEO Captain, Dhaffer Al Abbasi, said: "We aim, through this partnership, to provide training in a safe and affordable manner using the latest technologies.
This will certainly contribute to the expansion of the premium training services offered by the Academy and cement its leading global position in the aviation and logistics fields." Atyaf eSolutions Chairman, Ubaydli Ubaydli, said: "The state-of-the-art training solutions and courses offered by GAA generates a valuable addition to institutions operating across several sectors aspiring to upgrade its staff's performance utilising top-notch training programmes that employ the latest technologies."
Ubaydli added: "This partnership aims to strengthen Bahrain's position as an advanced training centre in this region." GAA supplies world-class training programmes tailored to meet the needs of personnel working within all aspects of the aviation industry from pilots and cabin crew to air traffic controllers and engineers, as well as other sectors.