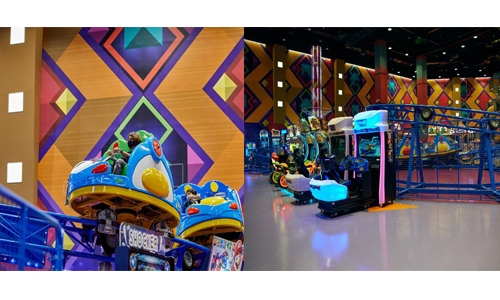 It's time to play at Funscape Play at Mall of Dilmunia!
TDT | Manama
The Daily Tribune – www.newsofbahrain.com
Like something out of a children's fairytale, Funscape Play opened its doors in the exuberant Mall of Dilmunia, nestled between the dancing fountains of the canal and the pristine northern shore of Bahrain. Funscape World is one of the largest indoor family entertainment destinations in Bahrain, boasting 4 distinct sections: Funscape Adventure, Funscape Ice, Funscape Sports and the newly opened Funscape Play.
The four zones form the entertainment anchor of Mall of Dilmunia from the Lower Ground Level to the Second Level, where kids and adults alike can indulge in a variety of activities and experiences. Shaikh Mohammed bin Duaij Al Khalifa, Chief Executive Officer of Mall of Dilmunia, said, "We are delighted to announce the opening of 'Play' which adds yet another exciting avenue of fun to the in-mall experiences portfolio.
It aims to raise the bar for indoor entertainment offerings within the Kingdom of Bahrain. Play is ideal for all age groups and we are delighted to welcome everyone to join the fun." Rebecca Charlotte Arnold, Deputy CEO of Mall of Dilmunia "We received an extremely wonderful response when we launched the Ice, Sport and Adventure zones, hence we are very excited to launch our Funscape Play Zone at Mall of Dilmunia.
The play has a wide variety of arcade games, drop tower, roller coaster, bumper cars, carnival & midway games, VR games, video games, simulators, redemption games, soft play area and also has a toddler play zone since we wanted all age groups to join the Fun. " Funscape Play is located on the Second Level and covers an area of 2214 square meters, which is filled with a wide range of different games and activities.
In addition to this exciting opening, a summer camp will be launched soon at Funscape World that will include fun and educational programs for children to have the opportunity to learn ice skating in Funscape Ice, enjoy unlimited games at Funscape Play, engage in a football match at Funscape Sport, and revel in rope courses and climbing at Funscape Adventure. All these unique activities will be announced later towards the end of July.
Hesham Ebrahim, Funscape World Operations Manager emphasized the new rules of entry and ensured that Funscape World was not only concerned with the technical and operational aspects of the business but also promoting a COVID-free establishment. The teams are up to date with the most recent COVID guidelines and eager to welcome all age groups to enjoy safe indoor gaming options.