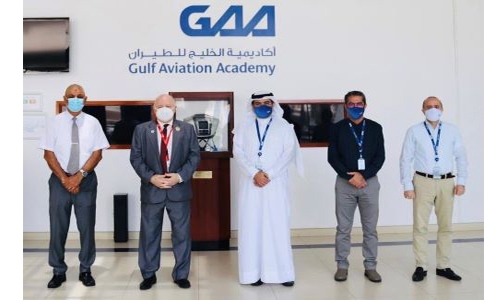 Gulf Aviation Academy provides specialised American Heart Association lifesaving courses
TDT | Manama
The Daily Tribune – www.newsofbahrain.com
Bahrain's leading aviation and logistics training institution, the Gulf Aviation Academy (GAA) has been recently approved as an international training centre to conduct courses of the American Heart Association (AHA), one of the prestigious international training organisations that specialise in the field of heart and cardiovascular care.
AHA's accreditation adds to a long list of renowned international organisations which recognise GAA as a certified international training centre to provide first-class training services in different fields, including air traffic control, pilot and cabin crew training, ground training, maritime, and other specialised courses that are compatible with the highest international standards in the industry.
Commenting on this occasion, GAA CEO Captain Dhaffer Al Abbasi said: "We pride ourselves in being one of the leading organisation that gained worldwide recognition in the field of training in the MENA region. This approval from AHA is yet another breakthrough in our constant strive to provide premium training services that meet the region's demands in different sectors."
Elaborating more on the details of the AHA courses the Academy will now provide, Capt. Al Abbasi said: "GAA is now an approved international training centre by AHA to provide Basic Life Support (BLS), Heartsaver and First Aid courses, which qualify trainees, upon successful completion of the courses, to become approved AHA providers."
"We are planning to annually train 300 to 500 trainees from different sectors. This includes pilots and cabin crew in the aviation industry, enabling them to professionally deal with cardiac emergency cases. In addition, the courses target professionals involved in delivering cardiovascular and stroke care, with particular emphasis on physicians, scientists, nurse practitioners, clinical nurse specialists, physician assistants, nurses, pharmacists and practice administrators. Medical students and trainees, technicians, dietitians, and other healthcare professionals, as well as individuals with no medical background, can benefit from some of AHA's courses," Capt. Al Abbasi added.
It is worth noting that AHA publishes the guidelines for lifesaving techniques, such as CPR and ECC, which set the standard for lifesaving first aid and CPR protocols and products around the world. The Association's lifesaving course materials are used to teach first aid CPR and advanced cardiovascular care to millions of healthcare providers, caregivers, professionals and community members each year.
GAA is dedicated to supplying world-class training programmes tailored to meet the needs of personnel working within all aspects of the aviation industry from pilots and cabin crew to air traffic controllers and engineers, as well as other related sectors.