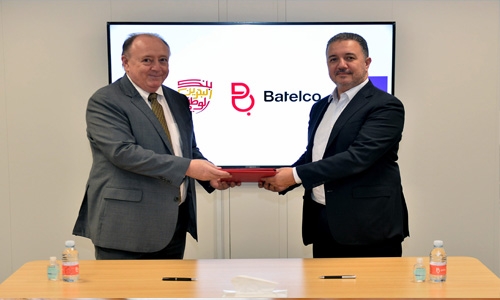 Batelco, NBB Group sign deal
TDT | Manama
The Daily Tribune – www.newsofbahrain.com
Both Batelco and National Bank of Bahrain Group signed a Memorandum of Understanding (MoU) to for- malize plans that will see the Group's core IT infrastructure being moved and hosted within Batelco's Hamala Data Center.
NBB officials signed the deal during a visit to the newly opened Batelco Data Center in Hamala - the 'largest' enterprise Data Center in Bahrain.
With an area of 12,236 square meters, the Center has a total capacity of 2.7 megawatts to service 250 working racks.
Batelco CEO, Mikkel Vinter, and General Manager of Enterprise, Abderrahmane Mounir, welcomed NBB's Group Chief Operating Officer Ian Blacklaw, Razi Amin, Head of Information Technology at NBB, and Osama Ali Nasr, Chief Information Officer at Bahrain Islamic Bank.
Commenting, Iain Blacklaw, Group Chief Operating Officer at NBB, said: "The current shift is a strategic move towards a complete digital transformation at NBB Group, and given the recent upgrades to the bank's services, we aim to adopt an independent techno-centric model of operation to further enhance our performance and expand our service offerings."
"Batelco's new Data Center is fully equipped with all the necessary means to handle our IT infrastructure operations, allowing us to further focus on outsourcing our day-to-day responsibilities and operations while trusting that our infrastructure is being safely and securely managed and maintained by one of the most respected national entities in the Kingdom."
Batelco General Manager of Enterprise, Abderrahmane Mounir, said: "We believe that the facilities and solutions we can offer are well suited and designed for the banking and finance sector and other verticals."
"Additionally, customers using our Data Center services are provided with continuous support from Batelco's 24-hour Network Operations Centre and business-continuity management facilities," he added.