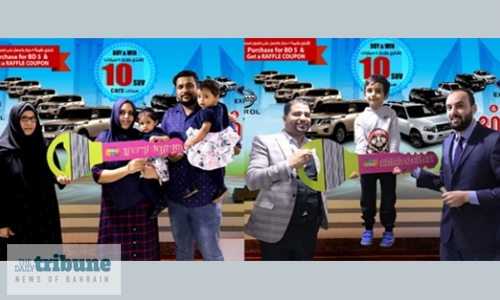 Ansar Gallery names mega car raffle winners
Ansar Gallery and A&H General Trading Bahrain yesterday announced the winners of a mega car raffle draw. Nadhira Hijaz, Coupon No.1819734, won a Ford Expedition car and Yousef Abdulla Al Tawadi, Coupon No.1792686, won a Nissan Patrol car during the draws held on November 21.
The event was part of Ansar Gallery's "WIN 10 Nissan Patrol & Ford Expedition SUV Cars Raffle Draw" which runs from 7 May 2019 until 15 April 2020. Five more cars are on the offers following the latest draw. Next mega car Raffle Draw for a Ford Expedition car and 15 valuable gifts will be held at Ansar Gallery on 26 December 2019 at 11.30 am.
To enter the draw, make a purchase of BD 5 along with the "Bahrain National Day Mega Offers". Offers which began from 25 November continues until 21 December 2019. Winners list are available on www.ansargallery.com.bh, www.instagram.com/ansargallerybahrain and www.facebook. com/ansargallerybahrain