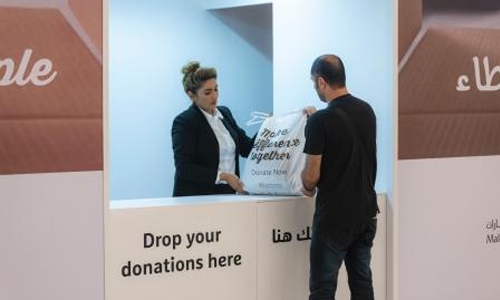 City Centre Bahrain invites visitors to 'Make a Difference this Ramadan'
City Centre Bahrain, the premier shopping, entertainment and lifestyle destination in the Kingdom of Bahrain, once again will be collaborating with the Bahrain Islamic Association to make a difference in the lives of the less fortunate by encouraging people to donate during Ramadan. Now in its 13th year, 'Make A Difference' is Majid Al Futtaim's annual initiative that spreads the message of kindness and empathy.
It teaches the community the value of giving and compassion and encourages everyone to donate, providing families in need with everyday essentials. "Our Make a Difference initiative with the Bahrain Islamic Association has made great strides in getting the community together for a good cause. City Centre Bahrain will be there throughout the month with themed décor, activities and entertainment and opportunities to give those in need,' said Duaij Al Rumaihi, Senior Mall Manager, City Centre Bahrain.
"We hope that this year even more residents and tourists open their hearts and embrace the spirit of giving and generously donate to families in need this Ramadan ", he added. City Centre Bahrain have been working closely with the Bahrain Islamic Association for the past four years. During the Holy Month, City Centre Bahrain is offering visitors the opportunity to make a difference in the lives of underprivileged families in need.
A donation station will be located next to gate 4 on the ground floor and shoppers are invited to donate gently used clothes, books, toys and non-perishable food items. All donated and collected goods will be distributed through the distribution channels of the local charity organisation, warming the hearts of thousands of people in Bahrain. Save the date for City Centre Bahrain's Gergaoun annual celebrations, on May 16, 2019.
In conjunction with the Ministry of Social Development, the mall will host a traditional ceremony where children dress up in traditional clothes and go around asking for sweets while singing special songs. The colourful event will feature traditional games, songs, mascots, and Gergaoun 'goodie bags' offered by City Centre Bahrain and its retailers. For Iftar and Suhoor, diners can choose from a wide range of Arabic and international cuisine at the mall's restaurants, which will be open every day from Iftar until 2am.