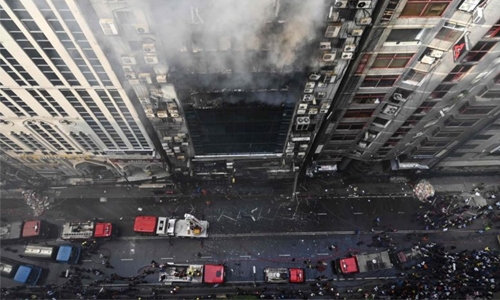 Workers jump to their deaths as Dhaka fire kills 19
Desperate workers leaped to their deaths as a huge fire tore through a Dhaka office block yesterday, killing at least 19 people and trapping others in the latest major inferno to hit the Bangladesh capital. Rescue workers warned the death toll could rise sharply as fire fighters recovered charred bodies from the complex where an unknown number of office workers were engulfed by intense smoke and flames. At least six people died after jumping from the 22-floor building, officials said.
Dhaka police chief Asaduzzaman Mia told reporters at least 73 people were injured and being treated in hospitals across Dhaka. People were seen screaming for help as hundreds of panicked onlookers crowded the streets of the upmarket Banani commercial district. Some workers slid down a television cable on the side of the building. Others grabbed ropes lowered by emergency service helicopters which pulled them out of the blaze.
The inferno erupted barely a month after at least 70 people were killed in Dhaka apartment buildings where illegally stored chemicals exploded. The latest disaster brought new scenes of horror amid fears that the toll would rise. More than 100 ambulances were parked in streets around the building. Shoikot Rahman heard colleagues raise the alarm and ran to safety before smoke and flames engulfed the building.
"When I heard a fire broke out in the building, I quickly rushed out," he said. "Many of my colleagues are still trapped in the office." Firefighters on long ladders smashed windows to create escape routes. More than one hour after the blaze erupted people could still be seen on the 13th and 14th floors desperately waving for help amid clouds of black smoke.