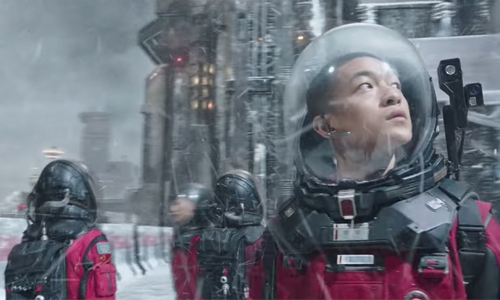 The Wandering Earth: Epic Chinese sci-fi film heralds a new era
The Wandering Earth is a 2019 Chinese science fiction film directed by Frant Gwo, based on the novella of the same name by Locus Award and Hugo Award-winning author Liu Cixin. It stars Qu Chuxiao, Li Guangjie, Ng Man-tat, Zhao Jinmai, Wu Jing and Qu Jingjing. A box office success, it has grossed over $683 million worldwide, including $677 million in China. It is China's second highest-grossing film of all time, 2019's highest-grossing film worldwide, the second highest-grossing non-English film of all time, and one of the top 20 highest-grossing science fiction films of all time.
It has received generally positive reviews from critics, with The Hollywood Reporter describing it as "China's first full-scale interstellar spectacular." Netflix has acquired the film's global streaming rights. The film received a generally positive reception in China. Several state-run media publications have given the film a positive review. Specifically, Zhong Sheng, in the People's Daily, writes that the film is "not superheroes saving the world but the mankind changing their destiny together."
On Douban, during the initial release, the movie had a 8.5 rating; it was then suddenly fell to 7.9 as of the early morning of February 23rd in China. It was reported some reviewers were offered money for posting negative reviews on the rating platform. Douban banned nearly 50 users for violating guidelines and thousands of comments removed.The rating finally stabilized at 7.9. Some commenters, specifically on Douban, who give the film negative reviews were accused to be in bad faith or trolling, but the accusation is disputed.
Tasha Robinson of The Verge describes the film as "rich, gorgeous, and goofy". Travis Johnson, of Flicks.com.au gave the film four out of five stars and, whilst criticizing the film for its lack of character development, praised the visuals and called it the best science fiction film of 2019. Ben Kenigsberg in the New York Times wrote that the film is "as awash in murky computer imagery, stupefying exposition and manipulative sentimentality as the average Hollywood tentpole", but that it proved that the Chinese film industry "can hold its own at the multiplex."Simon Abrams of RogerEbert gave the film three and a half stars out of the four, saying that the experience was "visually dynamic, emotionally engaging."