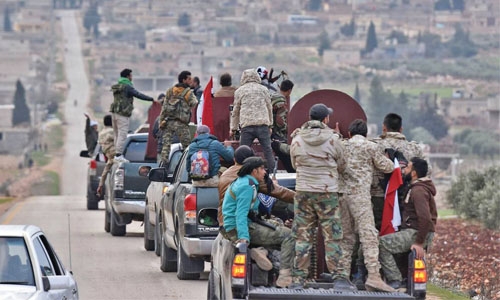 ISIS given 48hrs to surrender
Damascus : ISIS militants have been given 48 hours to agree to withdraw from an enclave they control south of Damascus, the pro-Syrian government newspaper al-Watan reported on Thursday.
"If they refuse, the army and supporting forces are ready to launch a military operation to end the presence of the organization in the area," it said.
The jihadist-controlled enclave is centered around the Palestinian Yarmouk camp and the al-Hajar al-Aswad area south of Damascus. The area is much smaller than the eastern Ghouta region where the Syrian government recently defeated insurgents.
A commander in the regional military alliance that backs the Syrian government said the Syrian army had begun shelling the jihadist enclave on Tuesday in preparation for an assault.
Yarmouk, some 8 km (5 miles) from the center of Damascus, was home to Syria's largest Palestinian refugee community before the Syrian war erupted in 2011. Although most residents have fled, the United Nations has said several thousand remain.
The Syrian government has recovered swathes of territory from rebels by letting them leave to other rebel-held parts of the country after years of siege and ferocious military assaults backed by Russia and Iran.
Meanwhile, state television showed live footage of buses entering the town of Dumayr, northeast of Damascus, to bring out fighters and their families, while soldiers stood by the roadside.
Twenty buses would be used to transfer about 5,000 people, including 1,500 rebels, to north Syria after they surrendered their heavy weapons, Syrian TV said.