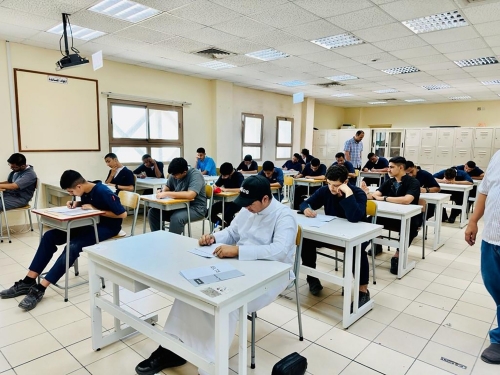 Students take IELTS training programme
TDT | Manama
The Daily Tribune – www.newsofbahrain.com
The Ministry of Education has commenced the widespread implementation of a training programme focused on assessing English language proficiency through the International English Language Testing System (IELTS).
Building on the successful pilot phase conducted last year, which exclusively targeted third-year secondary school students, this programme now encompasses all students across different grades, totaling approximately 40,000 male and female students.
Over the course of the next five days, starting yesterday, students will undertake a pre-test to gauge their listening, reading, writing, and speaking abilities in English. Following the assessment, a six-month training programme will be introduced to enhance their skills.
In May 2024, students will undergo a post-test to evaluate their progress, and comprehensive reports will be provided based on their performance in both tests. To ensure effective implementation, the Ministry is conducting intensive training for secondary school teachers in collaboration with renowned partners such as the National Geographic Learning Publishing House, the British Council, and the Regional Office for the English Language at the US Embassy.
The training will equip educators with the necessary strategies to enhance students' English language acquisition. Additionally, comprehensive guidelines and practical booklets will be distributed to students, containing valuable information about the IELTS test and a range of practical activities designed to improve their ability to manage time, handle questions effectively, avoid common mistakes, and attain the desired proficiency levels. This holistic approach aims to empower students and foster their success in the IELTS examination.