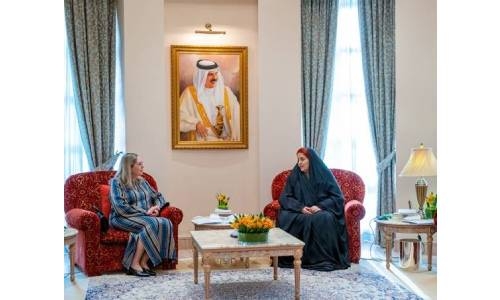 Bahraini women making significant contributions
TDT | Manama
The Daily Tribune – www.newsofbahrain.com
Bahraini women are now moving from the stage of empowerment to advancement. This was pointed out by Her Royal Highness Princess Sabeeka bint Ibrahim Al Khalifa, Consort of His Majesty the King and Supreme Council for Women (SCW) President, as she received yesterday HE Michal Herzog, Wife of HE the President of the State of Israel.
Mrs Herzog was briefed about the establishment of the SCW and the overall plans, programs and initiatives it implements, the awards it offers, and its efforts to be a national hub of expertise in women's affairs.
HRH Princess Sabeeka said that Mrs Herzog's visit comes amid annual celebrations marking Bahraini Women's Day, paying tribute to Bahraini women for their dedication and contributions to their countrys' bright future.
She highlighted the council's drive to document and preserve this march so that it gains greater momentum through national participatory efforts. HRH Princess Sabeeka highlighted the active role of the Kingdom, under the leadership of His Majesty King Hamad bin Isa Al Khalifa, in maintaining security and peace in the region so that its people can enjoy prosperity and stability.
She stressed SCW's keenness for all women worldwide to play a greater role in global trends related to peace, security and sustainable development. Mrs Herzog praised Bahrain's strides in the field of women's advancement, hailing the council's efforts, led by HRH, which won wide international recognition in view of the advanced results of Bahraini women's participation, especially at the level of countries in the region.