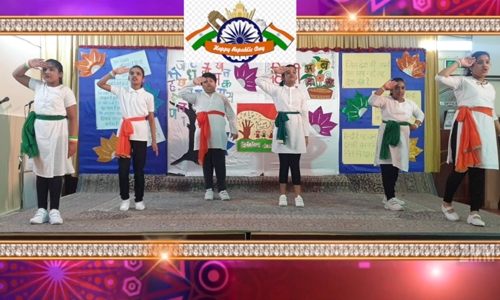 A feeling of patriotism and pride for New Horizon School students
TDT | Manama
The Daily Tribune – www.newsofbahrain.com
The New Horizon School celebrated India's 72nd Republic Day yesterday to inculcate a feeling of patriotism and pride in the students despite staying miles away from their motherland.
Republic Day is celebrated with colours of unity to depict the opulence and the richness of Indian culture. Students were given activities on preparing the national symbols of India.
Students of Grades 3 to 6 performed a 'Mashup Dance' too patriotic songs and filled the air with an aroma of patriotism and nationalism. The highlight of the event was a parade on "Incredible India" by the students of Kindergarten and Grade 1.
They represented 28 states, sang and danced to the regional language of each state to display the theme "Unity in Diversity".
A Grade 6 student, Hannah, in her speech gave an insight into the significance of Republic Day and highlighted the martyrs who had sacrificed their lives for the sake of India's honour and glory.
The key address was delivered by acting Principal, Leena Verma, who encouraged and urged the teachers and students to instil the feeling of oneness – a prime criterion of Indian culture and heritage.
The vote of thanks was given by Suresh who congratulated the team for their excellent display.