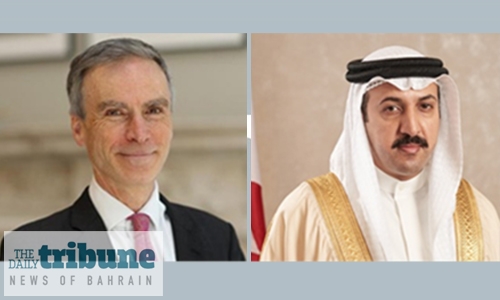 Bahrain-UK strategic relations 'on track'
Foreign Ministry Undersecretary for International Affairs Dr Shaikh Abdullah bin Ahmed Al Khalifa, received a phone call from the Secretary of State for Middle East Affairs at the British Foreign Office, Andrew Morrison. During the call, the two sides reviewed the close strategic relations between the Kingdom of Bahrain and the friendly United Kingdom and discussed means to reserve the stability of the region and combat terrorism. They also discussed the latest developments in the region.
Dr Shaikh Abdullah stated that the Kingdom of Bahrain is following the developments in the region, stressing the need to deescalate and confront terrorism in all forms and manifestations. The Undersecretary of the Ministry of Foreign Affairs for International Affairs called for concerted international efforts to ease the tensions and stop intervening in the internal affairs of other states in order to maintain regional security.
For his part, Secretary Morison hailed the efforts of the Kingdom of Bahrain to protect the security and stability of the region, stressing that his country is working with allied and friendly countries to reduce escalation in the Middle East. In a related development, UK Defence Secretary Ben Wallace yesterday announced that UK forces are "on standby" to assist in the Middle East following the escalation of tensions with Iran.
Mr Wallace said the Government has taken "urgent measures" to protect British nationals and interests in the Gulf following the killing of General Qassim Soleimani in a US drone strike. He added that it is for the US to explain if its decision was "illegal or not", but said it was "clear there was a case for self-defence". The Commons statement revealed that UK forces in the region, including helicopters and ships, were ready to assist in the crisis if needed.
Non-essential personnel had been relocated from Baghdad to Camp Taji, the military base 17 miles north of the Iraqi capital that is the current base for around 400 members of the Irish Guards. "As part of prudent planning, a small team has been sent to the region to provide additional situational awareness and contingency planning assistance," Mr Wallace told MPs.
The Defence Secretary urged Tehran not to retaliate for the strike on General Soleimani, saying Iran's pattern of "aggressive behaviour" including targeting dissidents in Europe and hijacking civilian ships "was never going to go unchallenged". "Her Majesty's Government urges Iran to return to the normal behaviour of the country it aspires to be and resist the urge to retaliate. "None of us wants conflict, none of us wants our citizens, our friends and our allies to be put at risk."