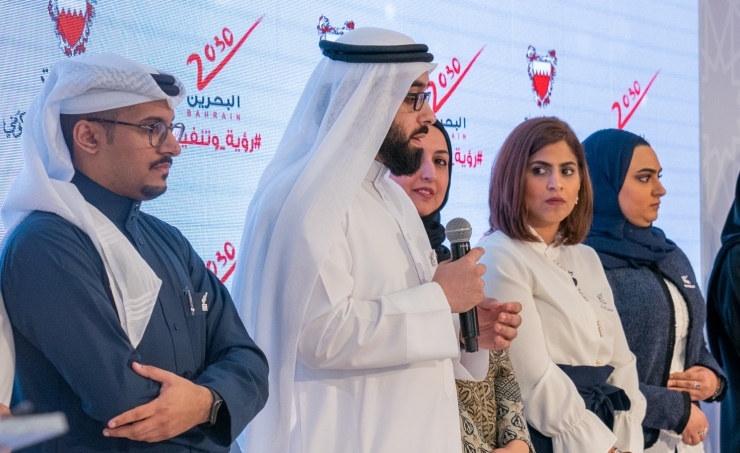 Winners of the 2019 Government Innovation Competition announced
The Government Innovation Competition 'Fikra' today announced the winners of the 2019 competition.

Launched by His Royal Highness Prince Salman bin Hamad Al Khalifa, the Crown Prince, Deputy Supreme Commander and First Deputy Prime Minister during the Government Forum, Fikra offers public sector employees the opportunity to put forward their suggestions on innovation and development of government services via a digital platform.

The Ministerial Committee selected the following two ideas:


1. "Virtual Employment Center" by Eman Al-Sammak and Ebtihal Al-Shihabi from the Labor Market Regulatory Authority.

2. "Mahakim Platform" Submitted by Ahmed Alaraifi from the Office of the First Deputy Prime Minister.

Members of the public selected "EParkBH - Replacement of parking meters with an application" by Alia Al-Qahtani from the Ministry of Interior and Nouf Al-Qahtani from the Ministry of Youth and Sports.

The Ministerial Committee was deeply encouraged by the extraordinary range of talents represented in the application pool, noting that applicants' aptitude for innovation will help achieve greater operational efficiency in the public sector.

Winners will be given an opportunity to present their innovations to the Government Executive Committee, chaired by HRH the Crown Prince, to ensure successful project implementation.

Fikra accelerates development through a citizen-centred approach that is participatory and sustainable in addition to fostering a culture of innovation in which government employees put forward breakthrough solutions, in line with Bahrain's Economic Vision 2030 and the Government Programme 2019-2022.

The Ministerial Committee consisted of HE Mohammed bin Ibrahim Al Mutawa, Minister of Cabinet Affairs, HE Jameel bin Mohammed Ali Hamaidan, Minister of Labour and Social Development, HE Eng. Kamal bin Ahmed Mohammed, Minister of Transportation and Telecommunications, HE Eng. Basim bin Yacob Al Hamer, Minister of Housing, and HE Faeqa bint Saeed Alsaleh, Minister Health, HE Ayman bin Tawfiq Al Moayyad, Minister of Youth and Sports Affairs, and HE Mr. Wael bin Nasser Al-Mubarak, Minister of Electricity and Water Affairs.