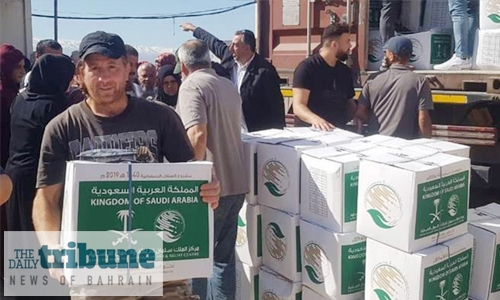 KSRelief to work with Islamic counter-terror alliance
The King Salman Humanitarian Aid and Relief Centre (KSRelief ) has signed an agreement with the Islamic Military Counter Terrorism Coalition to implement joint programmes and develop a strategic partnership. The agreement was signed in Riyadh by Abdullah bin Abdulaziz Al Rabiah, KSrelief's general supervisor, and Maj Gen Mohammed bin Saeed Al Moghedi, secretary-general of the coalition.
Both organisations will work on initiatives and programmes of common interest, conferences, seminars and lectures, capacity-building and joint training programs, and advisory and voluntary services. Maj Gen Mohammad Al Moghedi said that the agreement will enhance the integration and strategic partnership between the counter-terror alliance and KSRelief as well as extending cooperation and coordination on various levels.
The coalition is striving to develop links with local and international Islamic organisations, he said. The KSRelief recently revealed a plan to support the health sector in Yemen, in co-ordination with Yemen's High Relief Committee. "Since the current humanitarian crisis began in Yemen, KSRelief has been providing support throughout the country, including extensive aid to the Taiz governorate," the KSRelief had said.
"Iranian-backed Houthi militias have inflicted great damage to the country's infrastructure, including the health care sector. To address this issue, KSRelief in coordination with Yemen's High Relief Committee, representing Yemen's Ministry of Public Health and Population, has developed a strategic plan to support both the public and private health sectors," the centre said.
"Our goal is to deliver health care services to all Yemenis. We aim to reduce the spread of epidemic diseases, supply medical facilities with equipment, supplies, medicines and intravenous (IV) fluids."