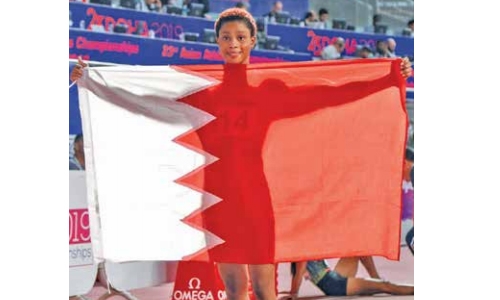 Bahrain triumph at Asian athletics meet
Bahraini athletes won 22 medals, including 11 gold, seven silver and four bronze medals at the 23rd Asian Athletics Championship that was recently concluded in Doha, Qatar. Bahrain's Salwa Naser increased her gold medal total to four on the final day of the event. Naser, the 2017 world 400m silver medallist, ran a spectacular anchor leg in the 4x400m relay, the penultimate event of the Championships in Khalifa Stadium which in five months' time will host the International Association of Athletics Federations' World Championships.
A distant fourth when she took the baton, Naser faced a deficit of some 20 metres as she went into the first bend, the IAAF reported. But she moved gradually into contention before taking the lead in the home straight in passing India's Vismaya Velluva Koroth in a superb split time of 49.70sec. That performance came two hours after she had earned gold in the women's 200m to go with the ones she had earned on previous days in the 400m and 4x400m mixed relay, along with her bronze from the 4x100m. Naser had won her 200m final in 22.74sec after overhauling 100m winner Olga Safronova in the middle of the final straight. Her time improved by 0.10 the Championship record of 22.84 she had equalled the day before. To widespread media disappointment, Naser rushed through the mixed zone without stopping to speak.
In the 4x400m relay, Bahrain had clocked 3min 32.10sec, beating India by 0.11 with Japan taking the bronze. Meanwhile, HH Shaikh Khalid bin Hamad Al Khalifa, First Deputy President of the Supreme Council for Youth and Sports, Chairman of Bahrain Olympic Committee, President of the West Asian Athletics Federation and President of Bahrain Athletics Association congratulated His Majesty King Hamad bin Isa Al Khalifa, HRH Prince Khalifa bin Salman Al Khalifa, the Prime Minister, HRH Prince Salman bin Hamad Al Khalifa, the Crown Prince, Deputy Supreme Commander and First Deputy Prime Minister, and HH Shaikh Nasser bin Hamad Al Khalifa, Representative of HM the King for Charity and Youth Affairs and President of the Supreme Council for Youth and Sports on the occasion of the remarkable achievement of Bahrain National Athletics Team HH Shaikh Khalid affirmed that the historic achievement came as a result of the continuous support provided by the Wise Leadership and HH Shaikh Nasser to the youth and sports sector in general and to athletics sports in particular, contributing to the efforts supporting the Bahraini sports in taking steady steps forward and achieving more regional and international accomplishments.
His Highness expressed pride in the national team's victory, surpassing strong competitors, such as China and India, and proving the Kingdom of Bahrain's competency of taking leading positions in sports and other fields.