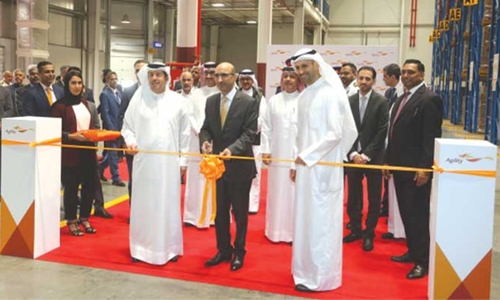 Agility opens $10 million regional hub in Bahrain
Agility, a leading provider of cross-border transportation, has opened its regional logistics and distribution hub in the country. The new 28,500 sqm facility in Hidd, which has a storage capacity of 17,000 pallet positions, represents a $10 million investment by Agility. It follows the expansion of the company's overland fleet in Bahrain to support its regional operations. The facility supports contract logistics with ambient, chilled and frozen storage, as well as solutions for high-value cargo.
It will offer secure records management and storage and turnkey logistics for Bahrain-based manufacturers in the fast-moving consumer goods industry. Under the Patronage of Zayed R. Alzayani, the Minister of Industry, Commerce and Tourism, Undersecretary of Industry Affairs Osama Mohammed Alorrayedh performed the official inauguration in the presence of Chief Executive of the Bahrain Economic Development Board Khalid Al Rumaihi and representatives from the Ministry of Transportation and Telecommunications and Customs Affairs.
During the ceremony, Undersecretary of Industry Affairs said the expansion of the regional logistics and distribution hub is a natural step for Agility, who have been steadily developing their operations in Bahrain since 2003. "The industry benefits not just from Bahrain's strategic geographic location, but also its growing infrastructure, established transport links and policies that are conducive to fostering business." Commenting on the facility, Essa Al-Saleh, CEO of Agility Global Integrated Logistics, said the investments in Bahrain will help the company better serve its customers in the region.
Agility's investments in the local logistics industry are a testament to the business confidence that Bahrain provides, Khalid Al Rumaihi, Chief Executive of the Bahrain Economic Development Board, said. Al Rumaihi pointed out that Bahrain offers the lowest setup and operating costs for a logistics business with cost savings of 30 to 40 per cent compared to the rest of the GCC. "This has encouraged several companies to utilize our ports and free zones in order to set up businesses and access the Gulf Cooperation Council, and the Arab world."