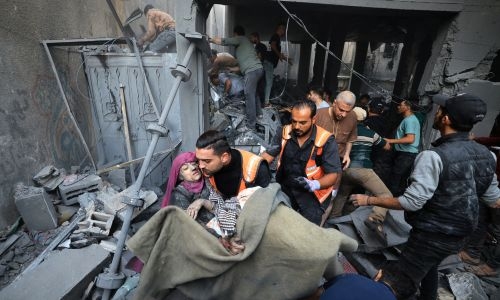 Jordan opposes linking Gaza pauses to hostage
TDT | Manama
The Daily Tribune – www.newsofbahrain.com
There will be no "significant pause" in the Israeli-Hamas war, a top US official told a security conference in Bahrain, as reports emerged yesterday of the deaths of more than 80 people in double Israeli strikes on the Jabalia refugee camp.
Jordanian Foreign Minister Ayman Safadi, who also attended the Bahrain conference, firmly opposed this and said it was "unacceptable" to link humanitarian pauses to a hostage release.
Jabalia is the biggest refugee camp in Gaza, where some 1.6 million people have been displaced by more than six weeks of fighting between Israel and Hamas.
US President Joe Biden's main adviser on the Middle East told the annual IISS Manama Dialogue security conference in Bahrain that there would be a "significant pause" in the Israeli-Hamas war if hostages held in Gaza were freed.
Speaking in Manama, Brett McGurk said, "The surge in humanitarian relief, the surge in fuel, the pause... will come when hostages are released."
The release of a large number of hostages would result in "a significant pause... and a massive surge of humanitarian relief," he said. McGurk said that the situation in the besieged Palestinian territory was "horrific" and "intolerable".
He said Biden had discussed the issue on Friday evening with the ruler of the Gulf nation of Qatar, which is leading mediation efforts towards a ceasefire and the release of the captives.
In his address at the summit, Safadi also voiced doubt that Israel could reach its goal of obliterating Hamas with its heavy bombardment and invasion of the Gaza Strip, long dominated by the Palestinian Islamist movement. "Israel says it wants to wipe out Hamas.
There's a lot of military people here; I just don't understand how this objective can be realised," Ayman Safadi said at the annual IISS Manama Dialogue security conference in Bahrain.
"We... must consider that war is also an indication of the political and diplomatic failure of the international community; all of us have failed to solve this problem," he said. "And the responsibility falls on all of us to find a solution."
The comments come as an official of the Hamas-run health ministry in the Gaza Strip said: "At least 50 people" were killed in an Israeli strike at dawn on the UN-run Al-Fakhura school in the camp, which had been converted into a shelter for displaced Palestinians."
Citing social media videos, the report claimed several bodies were seen covered in blood and dust on the floor of a building, where mattresses had been wedged under school tables.