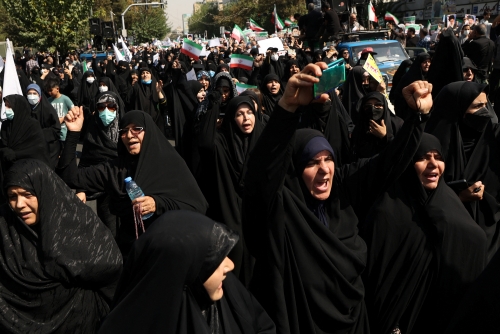 Iranian state-organised marchers call for execution of protesters
Agencies | Tehran
The Daily Tribune – www.newsofbahrain.com
State-organised demonstrations took place in several Iranian cities yesterday to counter anti-government unrest triggered by the death of a woman in police custody, with marchers calling for the execution of protesters.
The demonstrations followed the strongest warning from the authorities yet when the army told Iranians it would confront "the enemies" behind the unrest - a move that could signal the kind of crackdown that has crushed protests in the past.
Demonstrators condemned the anti-government protesters as "Israel's soldiers", live state television coverage showed. They also shouted "Death to America" and "Death to Israel", common slogans the country's clerical rulers use to try and stir up support for authorities.
Iranians have staged mass protests over the case of Mahsa Amini, 22, who died last week after being arrested by the morality police for wearing "unsuitable attire". The Iranian army's message on Friday, seen as a warning to protesters enraged by the death, read: "These desperate actions are part of the evil strategy of the enemy to weaken the Islamic regime."
The military said it would "confront the enemies' various plots in order to ensure security and peace for the people who are being unjustly assaulted."