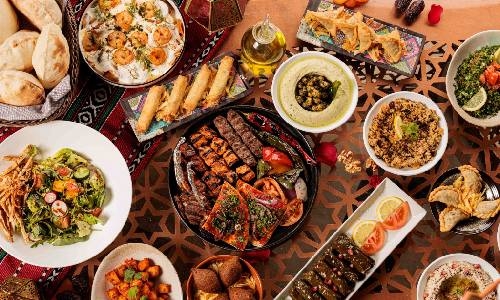 A Glamorous Festivity: Eats and Treats by Tania Rebello
Experiencing Iftar at Four Seasons Hotel, Bahrain Bay by Tania Rebello
As we enter into the last few days of Ramadan, no food lover could afford to miss lavish Iftars and Ghabgas with family and friends, for they offer a perfect platform to celebrate tastes while truly becoming a social being.
With a wide variety of dishes to select from, one is often spoilt for choice but that also means no taste buds go unsatisfied.
Iftar/ Ghabga at the Four Seasons Hotel is an experience to cherish. The grandeur of the Four Seasons extends through the lobby as guests make their way into the jawdropping Ramadan tent.
A queue of guests made their way through the corridor to the registration counter where their reservations were swiftly checked following which, they were escorted to their tables by a friendly greeter.
I got there right in time for Iftar, so as I waited for my turn to be seated, a greeter offered dates and gahwa to all the guests in line to break their fast. I found this very thoughtful.
The interiors are clad with golden arches that reach as high as the towering ceilings and the walls of the tent and buffet counters are tastefully designed with Arabesque patterns.
A pleasing shade of teal combined with gold instantly catches the eye and soothes the mind providing that much needed calmness in preparation for an enriching dining experience. Owing to the massive variety of food that is available, I suggest visiting the entire buffet spread first and then selecting the items that you would like to eat which is exactly what I did
The buffet spread is like a food wonderland with plenty of live cooking counters including saj, bao, pizza, pasta, paella, pani puri, koshari, ouzi and even crepe and kunafa counters! Other counters included a carving station, Arabic starters, Asian and Arabic main dishes, and a dessert section.
While a few restaurants limit their beverages to traditional Ramadan drinks and soft drinks, the Four Seasons offers fresh juices such as watermelon, carrot and pineapple in addition to a selection of Ramadan drinks.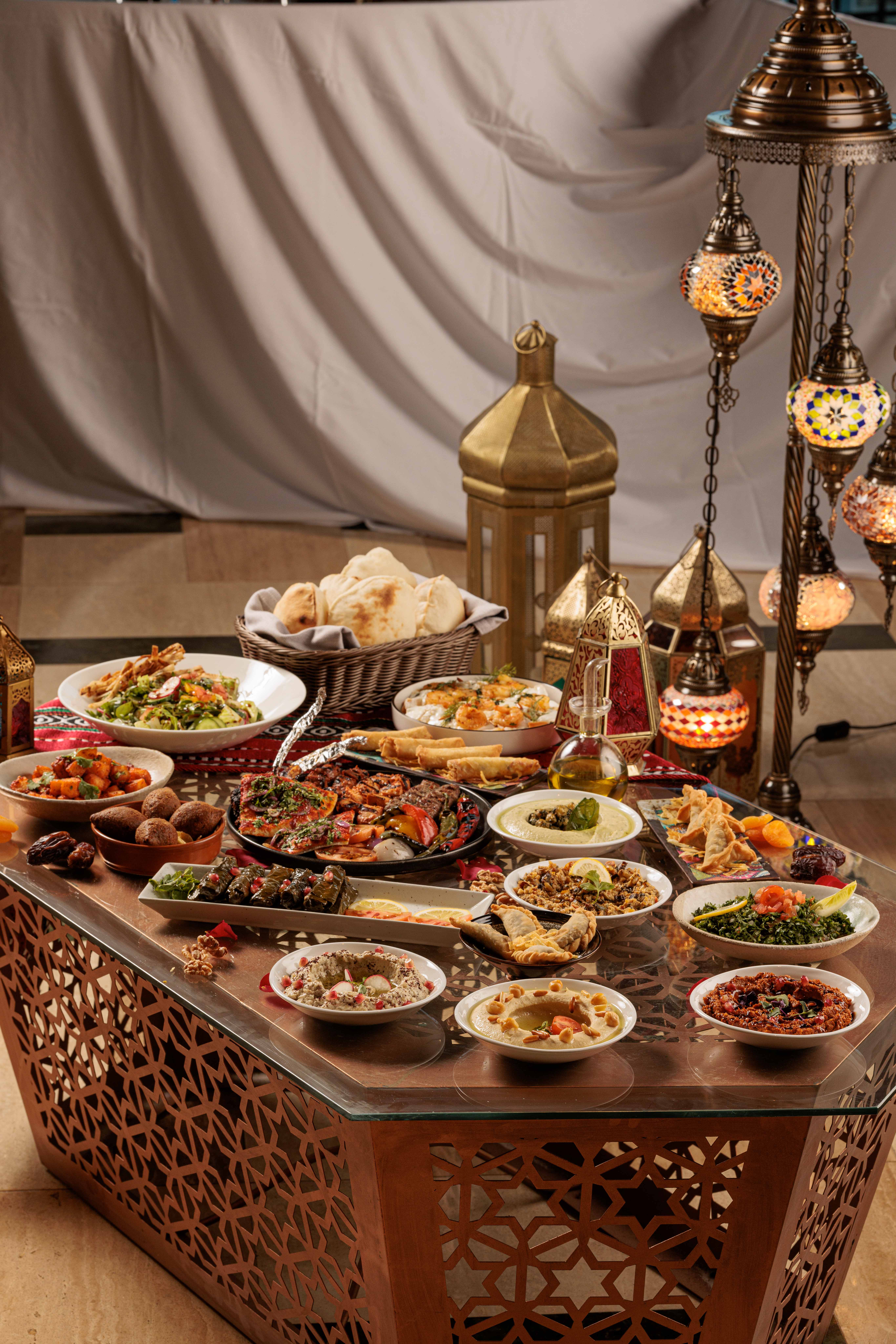 They also had coconut water and a lemonade counter with exciting flavor combinations. I started off with a refreshing watermelon juice and headed straight for the appetizers. A vast array of cold mezza, dolma and appealing salads were available.
One of the items that I remembered from their Arabic pop-up by the beach was the pesto hummus. Creamy hummus is infused with the pleasing taste of fresh basil to produce a beautiful, pale green hummus that has a memorable flavour.
I plated up some chilled dolmas, chicken saj shawarma and pepperoni pizza. The dolmas with a pleasant, lemony tang and rice filling were very enjoyable. The mini chicken saj shawarmas were served hot. The chicken was juicy and tender.
There were Nutella banana saj as well for those with a sweet tooth. The pepperoni pizza was straight out of the oven. Every bite was sheer perfection with the delicious, chewy crust and balanced ratio of toppings.
Cheese lovers can enjoy the other flavors like Quattro Fromage and Margherita. Next, I tried a chicken bao. The bao was fresh and springy with a scrumptious filling of crispy batterfried chicken, mango, cilantro and lettuce.
It was topped with sriracha mayo to provide a burst of flavors. They have a neat selection of cheese and meat fatayer and cheese rolls too. I did try a delicious cheese fatayer. A trip to the Asian counter is a must. What I enjoyed most were the crispy crab rolls that were meticulously prepared with a delicious filling of crab and vegetables covered in nori/ seaweed, tossed in a batter and fried.
A Thai prawn salad filled with juicy, jumbo prawns and a well-balanced, light dressing complemented the prawns very well. For the main course, I had to try the Arabic grills and items from the carving counter.
They served a selection of three familiar grilled items including kebab, sheesh tawook and lamb chops. The sheesh tawook was particularly tender and well marinated.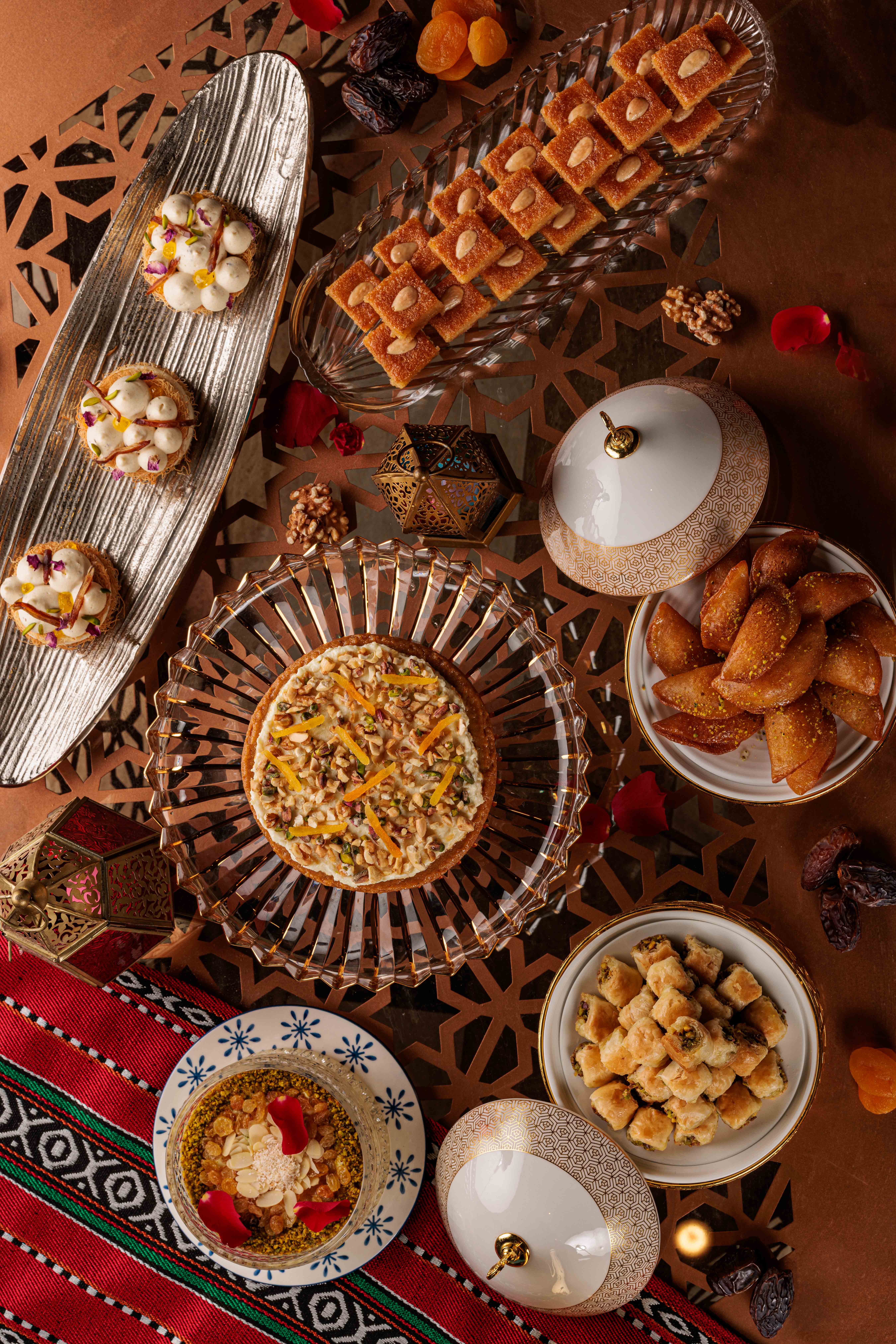 A major win was the brisket that was oozing flavorful juices as the server sliced through it. Paired with a delicious mushroom sauce, it was a mouthful of goodness. I also tried the roast chicken with gravy that was tender and well flavored.
Other dishes that are served include Jordanian mansaf, Thai green curry, and traditional Arabic delicacies such as harees, chicken freekeh, fried rice, baked seabass with a tomato sauce, fish sayadieh to name a few.
At the dessert counter were several Arabic desserts, a few international desserts and two large chocolate fountains with marshmallows and fruits for dipping. After a very satisfying meal, I relished two of my favorite desserts- saffron rice pudding and chocolate ice cream.
The ice creams are freshly prepared inhouse. Several guests were seen enjoying piping hot kunafa and umm Ali. What I found very interesting was the availability of board games that guests can play during Ghabga.
A unique and rather cute section that they have is the children's buffet. The buffet table is placed at a lower level for little ones to access and is equipped with child-safe cutlery and crockery. Mini chafing dishes consist of kids' favorites such as chicken nuggets, French fries and pasta.
The Ramadan tent is divided into two sections- smoking and non-smoking although shisha is available only during Ghabga. Guests can enjoy live Arabic music performance through the Ghabga service.
The thought that is put into the buffet encourages a family-like atmosphere. It is also an ideal place to hold corporate gatherings. A visit to the Four Seasons Ramadan tent is definitely worth it. Iftar is priced at BD 32 net per person while Ghabga is priced at BD 34.5 net per person. To reserve a table, contact the Four Seasons Hotel on 17115500.