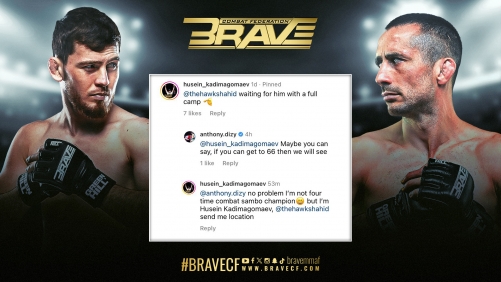 BRAVE CF's Kadimagomaev challenges newly-contracted Dizy
TDT | Manama
The Daily Tribune – www.newsofbahrain.com
BRAVE CF's latest signing Anthony "La Masse" Dizzy quickly got a taste of the pressure that comes with being a contracted BRAVE Combat Federation athlete this week when Husein Kadimagomaev called the Frenchman out just days after his debut fight.
Dizzy climbed into BRAVE Nation hearts when he took a short-notice fight at BRAVE CF 74 before producing an impressive show against four-time Combat Sambo World Champion Vladyslav Rudniev in the co-main event.
While "La Masse" lost the Lightweight fight via unanimous decision, his performance demanded the respect of millions of MMA enthusiasts, and BRAVE CF President Mohammed Shahid rewarded the Frenchman with a multi-fight contract.
BRAVE CF officially welcomed "La Masse" to BRAVE Nation by posting a graphic of the courageous athlete that included President Shahid's thoughts: "This man grappled a four-time Combat Sambo World Champion. Despite coming in on such short notice, he gave it his all and produced a spectacular show. He is BRAVE CF caliber, and I can't wait to watch him with a full camp."
The post had not even simmered yet before Kadimagomaev responded to President Shahid. "President Shahid, I will be waiting for him with a full camp," said Switzerland's Kadimagomaev, who is on a three-fight win streak and hungry to make another big splash as he bears down on contender status.
Both men can transit freely between the Featherweight and Lightweight divisions which makes this fight clearly an exciting prospect for both men as they get ready to get back into the BRAVE CF arena.