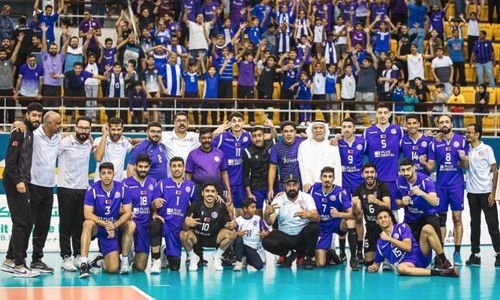 Dar Kulaib storm into volleyball finals
Dar Kulaib stormed into the finals of the 2022 / 2023 Isa bin Rashid Bahrain Volleyball League last night.
Dar Kulaib booked their place after a dominant 3-0 (25-22, 25- 20, 25-17) victory over Al Ahli at a jam-packed and rocking Isa bin Rashid Arena at the Bahrain Volleyball Association (BVA) headquarters in Isa Sports City in Riffa.
The result earned them a twogame sweep of their best-ofthree semi-final series and thus their berth in the championship round.
Dar Kulaib will now face the waiting Al Najma for this season's crown.
The title-deciding series will also be played in bestof-three format.
The schedule has yet to be released by the BVA.
Najma secured their spot following a win over Muharraq in their final-four contest, which was a single game as Najma owned a twice-to-beat advantage after finishing the league's round-of-six playoffs in first place.
It will be an exciting matchup, as Najma and Dar Kulaib were both amongst the top teams ranked in the preliminary round as well as the playoffs.
In last night's clash, Ahli were the early aggressors and they held a slim lead in the first set.
After Ahli built a 16-12 advantage, Dar Kulaib stormed back and tied the proceedings at 20- all.
A Mahmoud Abdulwahed spike then gave Dar Kulaib a 22-21 lead, and later a Mohammed Yaqoob attack off a perfect Hussain Sultan set-up closed out the set for their team.
In set two, Dar Kulaib took a quick 5-0 lead which they later extended to 18-12.
They never wavered from there, and although Ahli saved two set points later on, Argentinian professional Juan Barrera made sure that they took the two-set advantage.
In the third set, Dar Kulaib were determined to close things out and stretched their 15-13 advantage to 21-14.
They finally sealed the win with a Barrera smash.
Also playing key roles for Dar Kulaib were Ali Habib, Hassan Abbas, Hassan Alaiwi and libero Hussain Sultan, among others.
For Ahli, they relied heavily on Mohammed Anan, Abbas Al Khabbaz, Ali Alsairafi, Sayed Mohammed Alabbar and Mahmood Abdulhussain, among others.