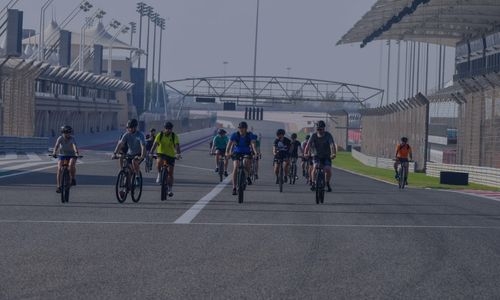 Fantastic Friday at BIC set with Batelco Fitness on Track and Orange Media Open Track
TDT | Manama
The Daily Tribune – www.newsofbahrain.com
A fantastic, fun-filled Friday awaits the public at Bahrain International Circuit (BIC) with two of the most popular activities on offer at "The Home of Motorsport in the Middle East".
Fitness enthusiasts will first be able to get a workout in as BIC hosts the latest edition of the Batelco Fitness on Track in the morning.
Then, from the late afternoon and all through the evening, the Orange Media Open Track will be taking place, giving motor racing lovers a chance to satisfy their need for speed.
Both events are among the most highly subscribed at BIC and those interested in joining are advised to book in advance to secure their participation.
This can be done on bahraingp. com or by calling the BIC Hotline on +973-17450000.
Runners and cyclists will get an early start to the weekend with the activity taking place between 6am and 10am.
The running and cycling will take place on separate track layouts.
Runners and walkers will be utilising the 2.550-kilometre Inner Track, while cyclists will be able to ride their bikes along BIC's 3.543-kilometre Outer circuit, with a dedicated area for children's cycling.
As in every Batelco Fitness on Track activity, the turnout has been tremendous from the local community; therefore, those interested in participating are advised to book online in advance on BIC's official website bahraingp.com or by calling the BIC Hotline on +973-17450000. All who register must pay upon booking.
The cost to take part is BD2 for cyclists and BD1 for runners.
Those under the age of 12 can participate for free if accompanied by a paying adult.
Meanwhile, the Orange Media Open Track later tomorrow will see participants explore the limits of their cars or motorbikes within a safe, controlled and fantastically lit setting.
The activity will be held between 11am and 6pm, and a most memorable experience of taking on BIC's 5.412-kilometre Grand Prix circuit—the same raced on by Formula 1's top stars each year—can be enjoyed.
The timing allows for those taking part for the full day to enjoy their drive in various conditions, including under daylight conditions, at twilight as the sun sets on the desert race track, and at night under BIC's bright, state-of-the-art floodlights.
The cost to take part is BD115.500 for the full night and BD82.500 for half the evening.
A single session costs BD44. Customers who pre-book their slots can benefit from reduced rates.
The full night would be just BD99, a half night BD71.500, and a single session at BD33.
In addition to the Orange Media Open Track, the Radical SR3 Passenger Experience can also be enjoyed tomorrow.
This costs BD38.500. The Radical SR3 car boasts an RPE-Suzuki Generation 1,340 DOHC engine.
It can go from zero to 100kph in 3.4 seconds. For more information, visit bahraingp.com or call +973- 17450000.