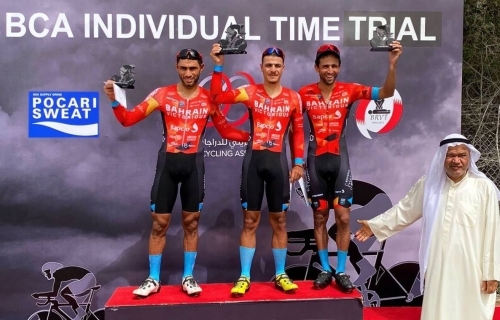 Olga, Ahmed claim overall victories in cycling time trial
TDT | Manama
The Daily Tribune – www.newsofbahrain.com
Olga Gorvat and Ahmed Nasser Ahmed emerged victorious yesterday in the Bahrain Cycling Association (BCA) Individual Time Trial event.
More than 80 competitors, both men and women, of various nationalities took part in the competition, which saw riders go all out to set their best time over a distance of 18 kilometres.
Olga was the overall winner amongst the women while Ahmed claimed first place overall amongst the men. Olga, competing with her team Trilife, clinched first place in her category with a time of 26 minutes 24 seconds.
The Ukrainian finished ahead of Bahrain's Sameera Al Bitar, also of Trilife, who followed as the runner-up in 26:45. May Alhaji of 1 More Watt came third just a second behind Sameera.
Among the men, Ahmed of Bike Zone claimed first place in 23:10. Mansoor Jawad of Bike City was second in 24:25, while Sayed Ahmed Khalil of Naseej came third in 24:37, completing an all-Bahraini podium.
The Bahraini female category was won by Mariam Almoayyed of Ryde Racing in 27:27. Fatema Husain of Trilife was the runner-up and Roaya Al Saati of Loop Café came third. Abdulla Faqihi also of Ryde Racing won the Bahraini male class in 25:10, followed by Abdulla Ali Abdulla of Bike Zone and Mohamed Alqais of Trilife.
Frenchman Kevin Orlandi of Bahrain Giants claimed the Over 40 Years category in 24:55. He was followed by Mohammed Shreeda of Bike Zone and Saber Mohamed Saleh of Bike City. Ahmed Ali Hassan Bouabdallah from Saudi Arabia of Bike Zone won the Under-23 category in 26:02.
He was followed by Mohamed Alhussaini of Ryde Racing and Mahdi Jassan Jawad. Some of the participants were representing teams in the race. They included 1 More Watt, Al Kheelan, Bahrain Giants, Bike City, Bike Zone, Cyclones, Happy Team, Look Café, Naseej, Ryde Racing, SPR and Trilife. Following the time trial, the overall and category winners were presented their prizes in a ceremony attended by BCA officials.