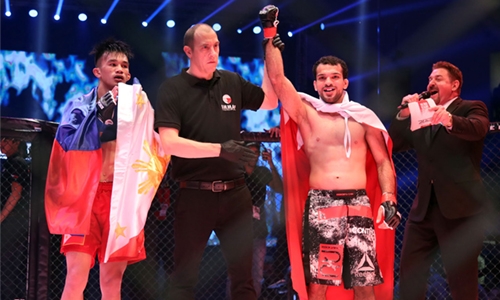 Hamza Kooheji to represent Bahrain in home soil
Bantamweight contender Hamza Kooheji will get a chance to be closer to a title shot on November 15th, when he takes on Nahuel Gandolfi at BRAVE 29, which takes place at Khalifa Sports City Arena, in Isa Town. The historical show will be the main attraction of the BRAVE International Combat Week, Asia's largest combat sports festival.
Bahrain's own Kooheji has been preparing for his BRAVE CF comeback in the United States alongside former BRAVE CF Lightweight world champion Abdul-Kareem Al-Selwady, at the world-famous Fortis MMA gym, in Texas. With a professional record of eight wins against two losses, "The Pride of Bahrain" is on a two-fight win streak, beating Crisanto Pitpitunge at BRAVE CF 16, and following it up with an impressive victory over Yayong Wang at BRAVE CF 21.
He hasn't fought yet in 2019, and Bahraini fans can expect a much-improved fighter when he takes to the BRAVE CF Arena on November 15th. Nahuel Gandolfi is from Argentina, but trains in Brazil, at Astra Fight Team, and will drop down from Featherweight to take on Kooheji in his debut. A dangerous ground fighter, Gandolfi has eight of his 11 career victories by submission.