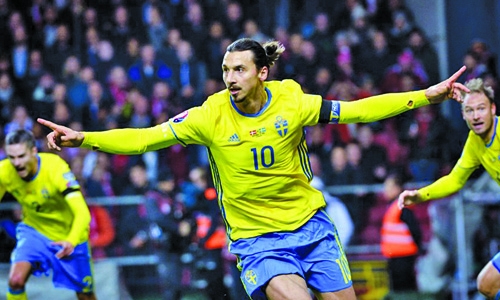 Ibrahimovic rules out World Cup comeback
Stockholm : Ending weeks of speculation, the Swedish football federation announced yesterday that star striker Zlatan Ibrahimovic, who quit the national squad in 2016, will not make a comeback for the World Cup in Russia.
"I spoke with Zlatan on Tuesday. He said that he has not changed his mind regarding the national squad," the managing director of the national squad, Lars Richt, said in a statement after the player dropped numerous hints of a possible return.
"It's a no," Richt added.
In an appearance on ABC television's late night Jimmy Kimmel show on April 18, the new star of LA Galaxy teased fans that he may come out of retirement to play in Russia.
Known for his swagger, Zlatan said "it wouldn't be a World Cup" if he didn't play, adding: "I'm going to the World Cup, yes."
The 36-year-old who last played at a World Cup with Sweden in 2006, retired from the Swedish team after the 2016 European Championship.
He said last month he wanted to concentrate on settling into his new life in Major League Soccer before thinking about the World Cup.
Following an injury-blighted stay at Manchester United, the father of two became the latest in a long line of ageing stars to leave European football for the United States.
The 6ft 4ins (1.95m) striker tweeted on April 15: "The chance of me playing in the World Cup is skyhöga (sky high)."
He later told Swedish media that "high odds -- that doesn't mean it's going to happen."
Ibrahimovic had just weeks earlier become a global brand ambassador for Swedish betting company Bethard, prompting some Swedish commentators to lament that his World Cup teasing was nothing more than an advertising gimmick.
"It feels like the whole thing was just aimed at building up his brand in the US and it even seemed at times like he thought it was funny," Daniel Nannskog, a commentator for Swedish public broadcaster SVT, said.