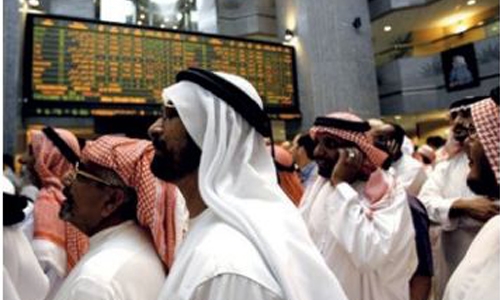 Dubai's stock market rose sharply yesterday, helped by real estate shares, even as the rest of the Middle East was largely quiet. The index climbed 1.2 per cent, with Emaar Properties advancing 2.5pc to 5.00 dirhams and DAMAC Properties rising 3.6pc. Arqaam Capital said in a report on Tuesday that while there were no real signs of improvement in the Dubai property market in the third quarter, earnings might be nearing the trough of their cycle. It recommended a "buy" rating for Emaar with a target price of 8.40 dirhams. Dubai Islamic Bank added 0.2pc after its third-quarter profit rose 10.8pc, in line with analysts' estimates. Emirates NBD gained 2.5pc.
The Saudi Arabian index fell 0.9pc, weighed down by blue chips such as Al Rajhi Bank, which fell 1.9pc, and Saudi Basic Industries, which dropped 1.3pc. But Bawan Co, which has been trading at record lows, climbed 3.5pc after its unit signed an agreement to supply Saudi Electricity Co with substations for 269.8 million riyals ($72 million). The company said the financial impact of the deal would appear in the first half of 2019.
Saudi Industrial Export jumped 10pc after approving a capital increase through a rights offer. The rights issue will begin trading on Oct. 15. Egypt 's blue-chip index, which has fallen 15pc since the end of August, was up 0.2pc as Commercial International Bank rebounded 1pc. Qatar's index rose 1.3 per cent to 9,964 points, briefly touching technical resistance at 10,003- 10,028 points, where the market peaked in August and September. Abu Qir Fertilizers continued to rise, gaining 2.3pc after announcing a full-year dividend of 1.10 Egyptian pounds on Monday.