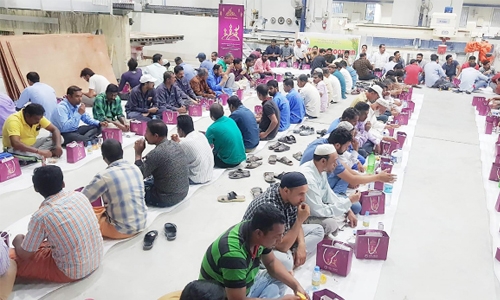 Over 81,000 to benefit from Malabar Gold this Ramadan
The Holy Month of Ramadan is at our doorsteps and millions of people around the world are getting ready to welcome the month with the acts of service, charity and prayers. As in previous years, Malabar Gold & Diamonds, one among the largest jewellery retailer with 250 stores globally strengthens its CSR activities in the GCC and Far East region this Ramadan. Malabar Gold & Diamonds has planned month-long CSR activities in association with like-minded organizations to benefit the needy. Over 81,000 special Iftar meals/ kits will be distributed during this period.
In Bahrain, the group is planning to provide over 5,250 Iftar meals to the workers at different labour camps located all over Bahrain like Askar, Akker, Jau, Arad, Hidd etc. Like in previous years, they will be associating with Discovery Islam, Royal charity organization, Al Hedaya Centre and Friendship Society for Blinds, UCO Parents Care to carry out such activities during Ramadan. In UAE, over 45,000 If t a r meals/ kits will be provided to the residents in association with various like-minded organisations like Sharjah Charity International, Community Development Authority, Dubai Municipality, Sharjah Awqaf, Red Crescent, KMCC, MSS, various labour camps and masjids throughout this Ramadan.
21,000 Iftar meals will be provided at Sajaa Industrial area, Sharjah throughout Ramadan in an air-conditioned tent which is set up with the support of Sharjah Charity International. Company will also distribute Iftar meals across the various labour camps & nearby masjids in UAE. In Oman, the group provides over 16,000 Iftar meals all over Oman through out the holy month of Ramadan. An air-conditioned tent which is set up at Ruwi where more than 15,000 beneficiaries will be benefitted. In Kuwait, the group will provide Iftar meals to over 3,000 labourers in different parts of various governorates and the desert areas.
In Qatar, Malabar Gold & Diamonds has planned to provide over 10,000 Iftar meals for the labourers across Qatar, onemonth long CSR activities are planned in association with 98.6 FM Malayalam Radio station and Qatar Sparsam organisation to benefit the needy. In KSA, the group has planned to provide Iftar meals in Haram area of Madina Al Munawarah in association with KMCC and Iftar kits will be provided in Makkah Al Mukarramah as well.
In Malaysia, the group provides 800 special Ramadan Kit to the underprivileged people which includes the grocery which will be enough for a family of 3 persons to break the fast for 10 days during Ramadan. The Company also provides 1,000 Iftar meals which will be distributed in & around of various masjids.