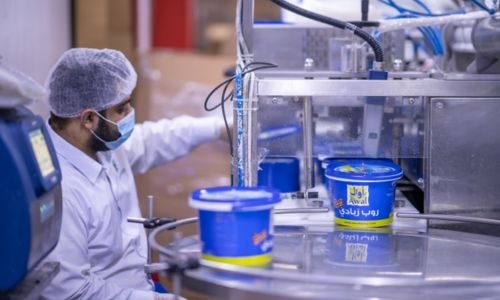 Tamkeen supports Awal Dairy Company expansion
TDT | Manama
The Daily Tribune – www.newsofbahrain.com
The Labour Fund "Tamkeen" announced its support for the expansion of Awal Dairy Company as part of the company's plan to increase productivity, export capacity, and expand into local and regional markets.

Tamkeen's support comes through the Business Growth Program. This provides grants to help organizations improve their operations through acquiring machinery and equipment, enhancing process automation, and employing technology.

It also supports export opportunities through quality management systems, export-related costs, and other pathways that enable the organization to adopt a more flexible and productive approach to expanding its presence in the market.

With Tamkeen's support, the company aims to double fresh dairy product production and increase long-life products by 40%. This will create jobs for tens of Bahrainis in addition to increasing exports by 10%.

Tamkeen Chief Executive Maha Mofeez said that the manufacturing sector is the second largest non-oil sector that contributes to Bahrain's national GDP with a contribution of 14%. It is also the third largest employer with 11% of the total private sector workforce in Bahrain.

"We focus on supporting the development of local factories to serve our main objectives of creating more job opportunities for local talent. We also increase this sector's contribution to the national economy," she said.

"Awal Dairy Company is among the leading companies in the Kingdom that meet local market demand for high-quality dairy products, while also exportingthems to regional markets.

Awal Dairy Company Vice Chairman Khalid Yousuf Abdulrahman hailed Tamkeen's support and emphasized its importance for the growth and development of the Kingdom's manufacturing sector.

"Tamkeen's ongoing support for local manufacturing companies to grow and expand adds significant value to Bahrain's manufacturing sector," he said.

"With this support, we are looking forward to increasing our production and exports of Bahraini products through the expansion of our operations. This will also enable us to employ talented Bahrainis who can contribute to the productivity and growth of Awal Dairy."