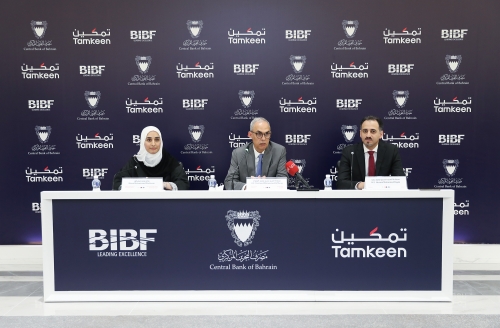 Grab this career opportunity to become an insurance actuary in Bahrain
TDT | Manama
The Daily Tribune – www.newsofbahrain.com
Opening doors to new career opportunities in the insurance sector, Bahrain announced launching a new initiative yesterday, also a first of its kind in the Kingdom, to train and employ Bahrainis in actuarial science.
Actuarial science is one of the most sought-after professional specialties that requires knowledge of mathematics, statistics and financial theory to evaluate risks across various sectors, including insurance, investment and banking.
An actuary is a person who compiles and analyses statistics and uses them to calculate insurance risks and premiums. This initiative aims to train a number of Bahraini nationals to receive the qualifications and licenses required to take new employment opportunities as actuaries in several local insurance firms.
The plan announced by the Labour Fund (Tamkeen) is in partnership with the Central Bank of Bahrain, the London-based Institute and Faculty of Actuaries, and the Bahrain Institute of Banking and Finance.
The Institute and Faculty of Actuaries is a globally renowned provider of licensing and qualifications for actuaries through a series of practical, technical, and theoretical examinations. Rasheed Mohammed Al Maraj, the Governor of the Central Bank of Bahrain, hailed it as one of the 'important' steps to prepare qualified Bahrainis in essential insurance sector specialties.
The move, he said, falls in line with the efforts made to create employment opportunities for Bahrainis within the local financial market, which is one of the priorities of the Economic Recovery Plan of 2022-2026.
Al Maraj said the CBB would also issue a legislation requiring insurance firms to establish an internal actuarial unit within their organisational structure. In addition, the initiative aims at helping Bahrainis to become qualified actuaries accredited by a globally recognised institute to carry out actuarial roles within insurance firms and prepare regulatory reports in accordance with the CBB's requirements.
Al Maraj added that the CBB invites insurance firms to take advantage of this opportunity and adopt this initiative to support the insurance industry by actively participate in qualifying national cadres for such specialties.
Husain Mohamed Rajab, Chief Executive of the Labour Fund (Tamkeen) emphasised the importance of bolstering Tamkeen's commitment to building a pool of qualified and competitive talent to power the productivity of the private sector.
He added: "This initiative is a first of its kind in the Kingdom and is underpinned by the growing demand for actuarial science services over the past years within the insurance sector specifically, as well as the rarity of qualified actuaries both locally and internationally."
"For that reason, Tamkeen will provide training opportunities to qualify Bahrainis to become licensed actuaries and start their careers in this field, therefore positioning Bahrain as a leader in human capital development according to interna[1]tional standards."
Dr Ahmed Abdel Hameed Al Shaikh, the BIBF's Director said, "We are pleased to be part of this strategic partnership to provide training and development opportunities for Bahrainis, as we seek to confirm Bahraini's role in the comprehensive development process of the insurance sector and the pivotal role it plays in business development."
Enas Asiri, bnl's Chief Executive Officer, said, "This step can greatly strengthen a financial institution's risk and capital management, resulting in increased security of policyholders, shareholders and beneficiaries, to the benefit of the institution and its regulators."
The initiative follows a series of strategic partnerships and initiatives launched by Tamkeen recently making Bahrainis the first choice of employment in the labor market. These strategic initiatives come alongside the 16 new programmes Tamkeen launched earlier this year as part of a comprehensive organisation-wide transformation initiative that focuses on driving greater economic impact in Bahrain.