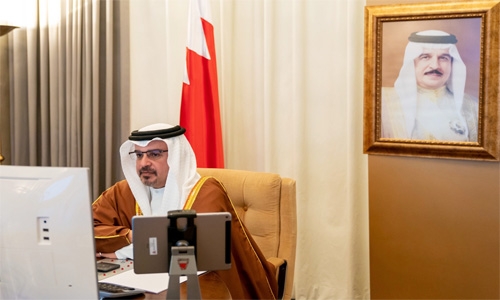 Congratulatory messages continue to pour in for HRH Prince Salman
TDT |Manama
The Daily Tribune – www.newsofbahrain.com
Congratulatory messages continue to pour in for His Royal Highness Prince Salman bin Hamad Al Khalifa on his appointment as the Prime Minister of the Kingdom.
Foreign diplomats, parliamentarians, Bahrain's ambassadors and top officials expressed their congratulations to HRH the Crown Prince and Prime Minister wishing him every success in continuing his services to the Kingdom and its people.
Congratulations were sent by Assistant Undersecretary for Financial Operations at the Ministry of Finance and National Economy, Taha Mahmoud Faqihi, member of the Representatives Council, Ghazi Faisal Al Rahma, Director-General of the Office of HH the Deputy Prime Minister, Shaikha Hayat bint Abdulaziz Al Khalifa, Bahraini Permanent Representative to the UN, Dr. Yousef Abdulkarim Bujiri, Assistant Undersecretary for Performance Control at the Financial Audit Office (NAO), Qassim Ahmed Mansoor Al Madhoub, Chief Executive Officer of the Al-Salam bank Bahrain, Rafik Nayed, Livestock Undersecretary at the Ministry of Works, Municipality Affairs and Urban Planning, Dr Khalid Ahmed Hassan, Executive Director of the Mohammed Bin Mubarak Al Khalifa Academy for Diplomatic Studies, Dr. Shaikha Muneera bint Khalifa Al Khalifa, Chief Executive of Bahrain's National Broadband Network (BNET), Mohammed Hamad Bubshait, South Korean Ambassador to Bahrain, HaeKwan Chung, HH Shaikh Ibrahim bin Hamad bin Abdulla Al Khalifa, Director-General of the Bahrain Institute of Public Administration (BIPA), Dr. Raed Mohammed bin Shams, Chief Executive of the Benefit Company, Abdulwahid Janahi, eputy Head of the Shura Council's Committee for Foreign Affairs, Defence and National Security, Faisal Rashid Al-Jaber Al Nuaimi, Bahraini Ambassador to Japan, Ahmed Mohammed Al Dossari, Constitutional Court Assistant Secretary General, Dr. Shaikha Mounira bint Abdullah Al Khalifa, Deputy Auditor-General for Financial and Performance Audit, Faiq Ali Dhaif, Education Ministry Undersecretary for Resources and Services, Dr. Mohammed Mubarak Juma'a, Jordanian Ambassador to Bahrain, Rami Saleh Wreikat Al Adwan, Bahraini Ambassador to Jordan, Ahmed Yousif AlRowaiei, National Audit Office (NAO) Assistant Undersecretary for Systemic Supervision, Majid Atiyah Makki Salman, Deputy Chief Executive for Distribution and Customers' Services at the Electricity and Water Authority, Adnan Mohammed Fakhro, Chief Human Resources Officer at Batelco, Faisal AlJalahma, President of the University of Bahrain (UoB), Dr. Riyadh Saif Hamza, Chief Executive Officer and Board Member of Gulf Finance House (GFH), Hisham Al Rayes, Shura Council, Abdulrahman Mohammed Saif Jamsheer, Staff Director of the National Guard, Major-General Shaikh Abdulaziz bin Saud Al Khalifa, Assistant Undersecretary for Agricultural Affairs at the Ministry of Works, Municipalities Affairs and Urban Planning, Dr. Abdulaziz Mohammed Abdulkarim, Chairperson of the National Institution for Human Rights (NIHR), Maria Khoury, Board of Directors Chairman of the Seef Properties, Essa Mohammed Najibi, Shura Council member, Fuad Ahmed Jassim Al-Hajji, Board Chairman of Arcapita Group, Abdulaziz bin Hamad Al Jamih, Shura Council member, Abdullah bin Khalaf Al Dosari, EFG Bahrain Chief Executive Officer, Talal Abdulla Salman Kaiksow, Undersecretary for Land Transportation and Post at the Ministry of Transportation and Telecommunications, Sami Abdulla Buhazza, Supreme Council for Islamic Affairs (SCIA) Secretary-General, Khalid bin Ali Al-Shomaly, Labour Market Regulatory Authority (LMRA) Deputy Chief Executive Officer Khalid Mohammed Abdulrahman, Royal Follow-up Affairs Director-General, Khalil Ibrahim Al-Rayyes, Finance and National Economy Ministry Assistant Undersecretary for Joint Financial Services, Nada Ahmed Mustapha, Assistant Undersecretary for Land Transportation, Nada Youssef Abdullatif, Supreme Council for Women (SCW) member, Head of the Department of Architecture and Interior Design at the University of Bahrain, Dr Shaikha Haifa bint Ibrahim bin Mohammed Al-Khalifa, GOSI Chairman, Mahmoud Hashim Al-Kooheji, HH Shaikh Hamad bin Abdulla Al-Khalifa, GOSI Chief Executive Officer, Eman Mustapha Al-Murbati, Assistant Undersecretary for Air Transport and Aviation Safety a Security, Ebtissam Mohamed Al-Shamlan, Al Najma Club Chairman, Shaikh Abdulrahman bin Mubarak bin Hamad, Shura Council member, Ahmed Mahdi Al-Haddad, American Express Middle East CEO, Mazin Antoine Khiury, Shura Council member Hamad Mubarak AlNuaimi, BREEF Chairman, HH Shaikh Abdulla bin Isa Al-Khalifa, Finance and National Economy Ministry Assistant Undersecretary, Ibrahm Mohammed Abul, Shaikh Mohammed bin Rashid bin Isa Al Khalifa, Shaikh Isa bin Rashid bin Isa Al Khalifa, Board Deputy Chairman of the Horse Affairs Authority, Shaikh Khalid bin Ali bin Isa Al Khalifa, Riffa Club Board Deputy Chairman, Shaikh Khalifa bin Ali bin Isa Al Khalifa, Advisor to Youth Affairs Expert at the Ministry of Youth and Sport Affairs, Dr. Shaikh Saqer bin Salman Al Khalifa.