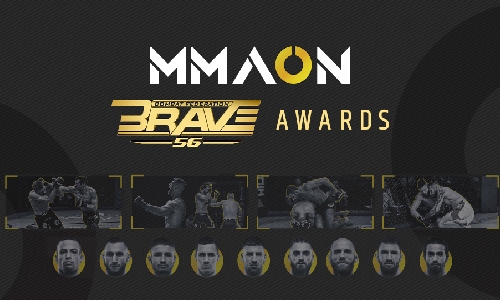 BRAVE CF 56 winners receive 95,000 MMAON tokens
TDT | Manama
The Daily Tribune – www.newsofbahrain.com
BRAVE Combat Federation keeps expanding its business and reinforcing its position as the most revolutionary MMA organization in the world.
As part of the efforts to share the compensation of the endeavours with athletes, the truly global MMA promotion joined forces with digital network MMAON to the traditional post-event awards.
For BRAVE CF 56, held back in December in Serbia, 10 athletes were awarded a total of 95,000 MMAON tokens - the platform tokens controlled by a smart contract deployed on the Ethereum network.
As its standard, the best fight, submission, knockout, and performance were awarded, and additional win bonuses were distributed to all the winning fighters of the card.
10,000 MMAON tokens were earned by Borislav Nikolic and Matiss Zaharovs, stars of the "BRAVE CF 56 Fight of the Night."
The Knockout of the night was awarded to Jakob Nedoh, Nikolay Nikolov got the Submission of the night, and Abdullah Al-Qahtani had the Performance of the Night, with the trio earning 10,000 tokens each.
On top of that, each of the 9 winners of the night, including the three fighters awarded with the individual bonuses, got extra 5,000 MMAON tokens as a victory bonus.
Throughout all the upcoming events, the BRAVE CF Bonuses will be distributed in partnership with MMAON, offering extra incentives to the fighters competing and engaging audiences around the world.