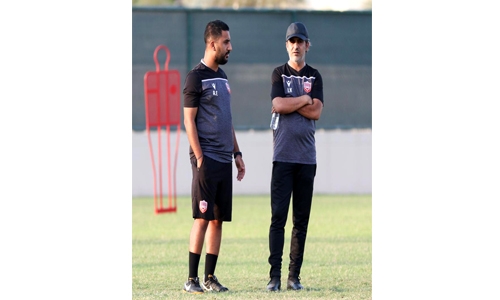 Bahrain Olympic football team head for camp with 28 players
TDT | Manama
The Daily Tribune – www.newsofbahrain.com
A 28-player Bahrain Olympic football team departed yesterday for Istanbul where they will be holding an overseas training camp until the end of the month.
The delegation is headed by team manager Shaikh Salman bin Abdulrahman Al Khalifa and head coach Ismail Karami. The players are Ammar Mohammed, Omar Abdulbasit, Younis Mousa, Adnan Fawaz, Abdulla Al Haiki, Abdulrahman Sayed, Ali Khalifa, Hussain Al Attar, Ahmed Al Sherooqi, Hussain Abdulkarim, Abdulla Freah, Ebrahim Shareeda, Mohammed Marhoon, Hamza Abdulla, Ali Al Dosari, Ali Muftah, Sayed Mohammed Amin, Faisal Abdulla, Hassan Issa, Fahad Jassim, Mohammed Ahmed, Ziyad Basil, Ebrahim Al Khattal, Hussain Tawfiq, Hamad Fouad, Faisal Hassan Habib, Hamza Al Jabne and Abdulla Nimer.
The Olympic team will train at the Turkish capital until July 27. During this period, they are scheduled to play a number of friendly games against local teams. The Bahrainis' camp is part of their preparations for upcoming competitions, including their participation in the AFC U23 Asian Cup Qualifiers.
Bahrain are in Group C of the qualification competition, alongside Iraq, Afghanistan and the Maldives. Their games will be held in the Kingdom during the last week of October.