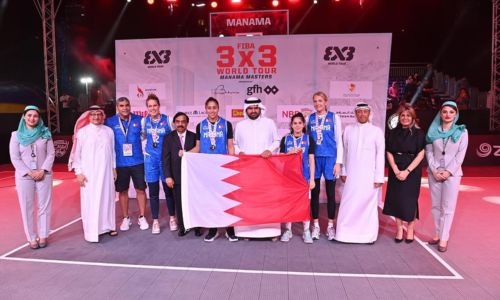 Partizan crowned Manama Masters champs!
TDT | Manama
The Daily Tribune – www.newsofbahrain.com
Partizan were last night crowned champions of the inaugural Manama Masters, part of this year's FIBA 3x3 World Tour.
The Serbians clinched the coveted title after defeating Antwerp TOPdesk from Belgium 16- 15 in a thrilling final, played at the specially constructed court at Bahrain Financial Harbour.
Ivan Popovic buried the goahead two-pointer that broke a 14-all deadlock and Partizan were able to hold on from there.
Antwerp's Jonas Foerts scored on a drive to cut the deficit, but later missed a potential game-winner at the end.
Joining Popovic on the champs' roster were Stefan Milivojevic, Stefan Torbica and Marko Stevanovic. Both Milivojevic and Torbica had five points in the game, while Popovic scored four and Stevanovic had two points.
Dennis Donkor and Foerts had seven points apiece to pace Antwerp.
Meanwhile, Bahrain's representatives Manama narrowly missed out on the women's tournament title after losing to the Doha Expo team from Qatar 9-21 in their gold medal contest.
The Manama women's squad, represented by Hessa Al Jaber, Marian Samir, and professional players Julia Jorritsma and Loyce Bettonvil, had earlier in the day defeated Riyadh from Saudi 21-11 to punch their tickets to the championship contest.
Their runner-up finish ensured a Bahraini team on the event's podium.
The men's squad, comprising Mustafa Hussain, Nemanja Draskovic, Milan Skundric and Anze Srebvot, could not advance past the preliminary stage after losing both their games in Pool D.
They first bowed to Amsterdam 15-21 and then narrowly went down to the eventual champions Partizan 19-21.
Following the men's final, the winners were presented their respective trophies and medals in an awarding ceremony attended by Bahrain Olympic Committee (BOC) vice-president His Highness Shaikh Isa bin Ali bin Khalifa Al Khlifa General Sports Authority (GSA) CEO Dr Abdulrahman Askar and Bahrain Basketball Association (BBA) Captain Waleed Al Alawi.
Also awarded yesterday in the side events were Tony Crosby II for winning the Dunk Contest, and Belgian Thibaut Vervoort of Futian team for taking the Shoot-out Contest.
Earlier in the day yesterday, Partizan qualified for the final after beating Hangzhou from China 21-19.
Antwerp won 21-10 over Marjampole Mantinga of Lithuania in the other semi-final. In the quarters, also played yesterday, Partizan won over Vienna of Austria 21-11, while Antwerp beat Futian of China 18-12.
Hangzhou were 21-12 victors against Jeddah from Saudi Arabia, while Marjampole edged past Amsterdam HiPRO from the Netherlands 19-17.
The Manama Masters marked Bahrain's first-ever appearance on the FIBA 3x3 World Tour, and took place under the patronage of Supreme Council for Youth and Sports first deputy chairman, GSA president and BOC chief His Highness Shaikh Khalid bin Hamad Al Khalifa.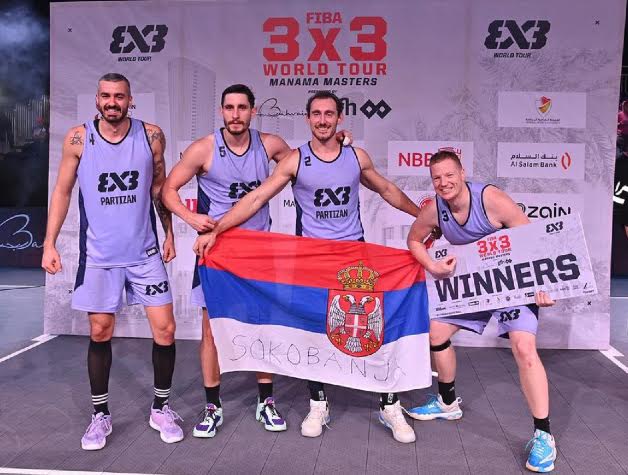 Partizan players celebrate their gold medal