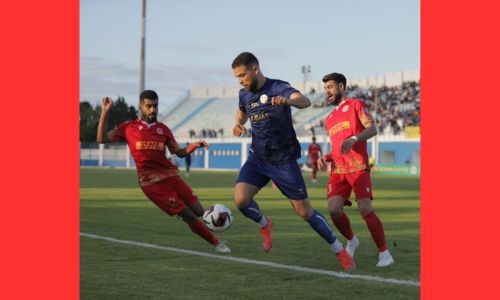 Muharraq suffer defeat in King Salman Cup qualifier
AFP | London
The Daily Tribune – www.newsofbahrain.com
Bahrain's Muharraq Club bowed to Tunisian outfit Union Sportive Monastirienne (USM) 0-2 in the first leg of their second qualification round match-up for a berth in the 2023 King Salman Club Cup—the region's top tournament organised by the Union of Arab Football Associations, also known as the Arab Club Champions Cup.
The match was played in Tunis, with Muharraq giving up both goals in the second half.
The first was on a 50th-minute penalty kick converted by Algerian professional Abdulqader Botish.
That was followed by USM's second, scored by Malian ace Boubacar Traore.
Muharraq tried valiantly to get a goal back but now head into the return leg on May 31 with the two-goal deficit.
The Bahrainis' home match will be played on their pitch at the Shaikh Ali bin Mohammed Al Khalifa Stadium in Arad.
Muharraq made it through to this stage of qualifying following a 5-4 penalty-shootout victory against Al Seeb of Oman in the second-leg of their match-up in this qualifying stage.
The match was played at Al Seeb Stadium in Muscat, and it ended 2-0 in favour of the hosts.
That forged a 2-2 deadlock on aggregate, with the Bahrainis having earlier defeated their Omani counterparts 2-0 in the first-leg.
Muharraq are one of two Bahraini clubs that have joined the tournament's qualification phase.
Manama are the other, but they have already been booted out after losing to Al Hilal Omdurman of Sudan.
Twelve teams remain in this second phase of qualification, which will determine the six teams that will move on to the group stage.
Ten squads have already entered the King Salman Club Cup directly, including champion clubs from Algeria, Egypt, Iraq, Morocco, Qatar, Saudi Arabia and Tunisia.
The tournament carries a huge prize purse, with the champions pocketing a cool US$6million.
The runners-up get $2.5million, while the semi-finalists each take home $200,000 and the quarter-finalists $150,000 each.