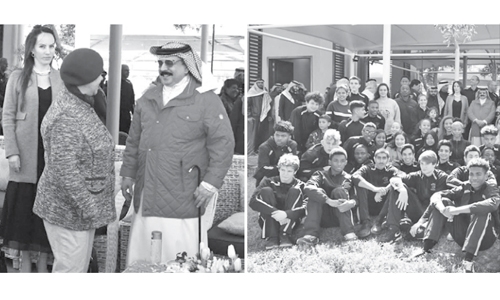 Amazing charm of a royal welcome at the endurance village
Growing up in an urban setting and amid high rise buildings, the only things I knew about horses were scenes of John Wayne riding rhythmically and at times gloriously on his black, brown or white steeds striding out in the open desert, or of Zorro's black Tornado adroitly evading being caught. The equine characters that populated the Little House on the prairie were also a source of fascination for me as I was discovering, thanks to our television set, a world that was vastly different from mine.
I never had the chance to be physically close to horses, so although they looked recognisable enough to me and I could tell the difference between a dignified trot and a full out gallop, they remained fascinating, but mysterious creatures. My first close contact with real horses was in February 2005 when as a teacher at Bahrain School, I was amazingly lucky to be able to arrange a trip for students to the Royal Stables thanks to a kind invitation from Tawfiq Salehi, the head of the media office of HH Shaikh Nasser bin Hamad Al Khalifa.
Tawfiq, Bu Ahmed as he is called, was a real gentleman and made it effortlessly easy for us to visit the stables where we had the immense pleasure of meeting HH Shaikh Nasser and his brothers HH Shaikh Khalid and HH Shaikh Faisal, may God rest his soul in eternal peace. They took us into the world of horses, providing us with information that we all took in with great anticipation, so eager we were to comprehend the nature of these lovely, harmless and intriguing animals. The visit lasted about four hours and its effects on us were enormous.
We spent lots of time talking about it and about the horses with great admiration. From then on, and despite all the other responsibilities, challenges and duties I had to assume both as a teacher and as a mother, I kept my fascination for horses. I now understood better when I sat glued to the TV set to follow races and results. Whenever I saw horses racing or trotting in movies, my mind went back to the stables and tried to imagine how they lived and behaved and how much attention they were getting. When in January we had two basketball teams from Vicenza High School visiting to play Bahrain School, we looked into ways to entertain the young men and women coming from Italy for the first time to a Gulf country.
Of course, my first thought was the Royal Stables since they provide an outstanding site where they could gain insights into a fascinating world. I was not sure we would be so lucky this time, but Bu Ahmed was as gallant and understanding as always and offered to host us at the Bahrain International Endurance Village, the home of competitions to test the stamina and strength of horses and to assess their proper management by riders. The students and their coaches as well as teachers and parents were excited about the trip and Bu Ahmed did not mind our growing number.
Excitement built up when he informed that HH Shaikh Nasser would receive us even though it was a race day and he would be focusing on achieving another victory for his team. That was something about the young prince that he had since his young age. I recalled how in one of his first interviews, and he was a student at the time, he said he was driven by achievements and successes, not mere participation in competitions or ostentatiousness.
His name in English meant Victorious and he obviously lived up to its meaning. Saturday was really beautiful after a spell of dust storm that swept across Bahrain for two days. I woke up at around 3 am to check whether the skies had cleared so that the endurance races would not be cancelled. I badly wanted the trip to be a success.
When we were about to board the bus from the school, Bu Ahmed called to inform me that HM the King would be at the village and would see us. I shared the great news and the bus was suddenly buzzing with excitement. When we arrived, we were welcomed by Bu Ahmed and by Haydar Al Zubi, the executive manager of Bahrain Royal Equestrian and Endurance Federation, who took us to the field and to the allocated areas of the village where he explained the various stages of an endurance race. The horses were superb, strutting pompously before each segment of the race and proudly afterwards.
They had character and they showed it defiantly. We were easily drawn into the intensity of the moment, sharing the passion of the riders and the fervour of the stable crews. Were the horses therapeutic to be around? We were strolling on the well-manicured grass when HH Shaikh Faisal bin Rashid Al Khalifa, the President of Bahrain Royal Equestrian and Endurance Federation, gently came to inform us that HM the King wanted to greet us. The basketball coaches moved in quickly to ensure the students formed a line and we all headed to where HM the King was standing. I have been fortunate to be in regular contact with members of the Royal Family for years.
I have taught some of them, became friends with many of them and shared delightful times with most of them. I liked their conversations, respected their intellectual sharpness and admired their simplicity. Many of them were close relatives of HM the King, including grandsons and nephews. I cherish the moments we shared and often recall them with fondness. Yet, I was a bit nervous when I reached the platform where HM the King was with his guests. I learned later that one of them was Gabriela Cuevas Barron, the President of the Inter-Parliamentary Union. The other was Fawzia Zainal, the woman who made history by becoming the first woman to be elected Speaker.
I experienced a special feeling for it was the first time I would see HM the King so close and shake hands with him. I was obviously grateful for his kind gesture to receive us and I really wanted to convey my deep gratitude and that of the school. I had earlier tried to prepare something to say, words that I could utter, but as I approached, I was not at all sure what to say. Suddenly, when I extended my hand, all apprehension was gone. The contented smile, the warm handshake and the gracious words of welcome made me at ease in this soothing and convivial atmosphere.
As I moved aside to allow the other visitors to shake his hand and exchange some words with him, I felt relaxed and grateful, enjoying the sight that two hours earlier, nobody ever thought possible. Following the group photo that showed how spontaneous the whole situation was, HM the King took time to talk with us about the school and the importance of exchanging visits and learning from one another. His Majesty smilingly shared some memories associated with the school. Later, I recalled reading about how one of the major features of a leader's character is to be lovable.
With HM the King, I truly comprehended its true sense and lived its exact significance. On the way back to Manama and for several days, the conversations at the school and in many homes were about the royal treatment that was accorded to the school and to its students and staff. It was obvious that the trip would be a memory that would last a lifetime.
To me, the visit, so beautiful in its simplicity and so amazing in its significance, was both exciting and humbling and I am deeply grateful to HM the King and to all those who made it so memorable. The visit also reinforced my admiration for horses, those graceful and glorious creatures. They are so magnificent that I decided that should I one day be fortunate enough to find a treasure, I would not buy a luxury car, but rather a beautiful horse!