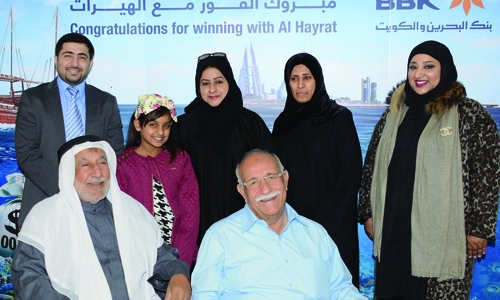 BBK announces Al Hayrat November winners
BBK has recently announced the name of the winners of Al Hayrat November draw.
Mohamed Salman Mohamed Salman Khalaf and Saleh Hassan Ali Ahmed have won $10,000 each. Whereas the remaining six winners won cash prizes of $5,000 each as follows: Lateefa Abdulla Mubarak Almaghribi, Shafeeqa Ali Mohammed Al Ali, Zahra S. Majeed Mohammed, Benafsheh Ebrahim Mohd Taqi Tadayon, Husain Ali Saleh Husain and Sana Ali Ebrahim Abdulaal.
The cheque was handed over to the winner by Ahmed Salah, Head of Liabilities and Nada Bubshait, Head of Retail Marketing.
The Al Hayrat draw took place on December 2, under the supervision of Suod Saif, Ministry of Industry and Commerce representative, in addition to BBK's Internal Audit, Internal control and Retail Marketing and Retail Banking representatives.
Ten year old Lateefa Al Maghribi, the youngest of this month's winners was very excited to have won this prize. When asked how she would spend the money, she said "I will go to London!"
The remaining winners thanked the bank for this opportunity and vowed to redeposit their winnings into Al Hayrat accounts in order to increase their chances of winning the upcoming Grand prize of $1,000,000 in January.
Customers can look forward to winning special bumper prizes in December worth $10,000 each, as the Al Hayrat will be celebrating them by dedicating a draw for ten prizes for customers who have maintained their deposits with Al Hayrat for Three years or longer.
The scheme will end with an "instant millionaire" Grand prize at the end of the year, which is the largest cash prize in Bahrain at One Million Dollars!
Customers who have deposited into their Al Hayrat account at least one month prior to any draw will be eligible.