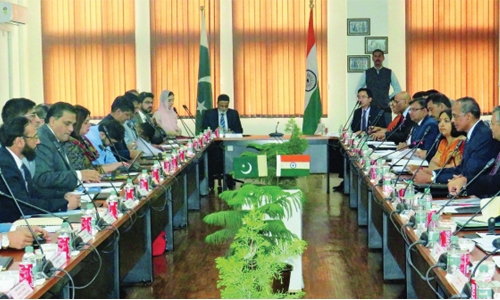 Pakistan, India hold 'positive' talks on Sikh visits
Pakistan and India held "very positive" talks yesterday, as they sat down to discuss a visa-free corridor for Sikh pilgrims just weeks after soaring tensions brought the two nuclear-armed powers to the brink of war. Officials from the two countries met in Attari, India, to discuss the details of an agreement that would allow Indian Sikhs to visit a shrine to their religion's founder in eastern Pakistan.
"Both sides held detailed and constructive discussions on various aspects and provisions of the proposed agreement and agreed to work towards expeditiously operationalizing the Kartarpur Sahib Corridor," read the joint statement released by Pakistan's foreign ministry.
The two sides are set to meet again in the coming weeks to finalise the deal, the statement added. "They were very welcoming, the whole meeting took place in a very positive environment," added Pakistan's foreign ministry spokesman Mohammad Faisal.