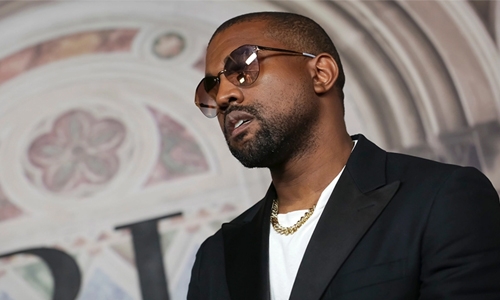 Kanye West caught 'stealing' jewellery
Rapper Kanye West was caught on camera 'stealing' an earring from a Versace fashion show. The rapper and his wife Kim Kardashian West were sitting in the front row at the label's New York pre-fall fashion show December 2 when he noticed the piece of jewellery on the catwalk.
Kanye decided to use the opportunity to claim it for himself, and was caught on camera by Kim, reports aceshowbiz.com. "I'm about to steal this earring that dropped, it's just there," the 41-year-old said in the video uploaded to Kim's Instagram Story. "They think they getting this back but I'm about to steal this," Kanye added.
Kim was wearing a silver sequinned minidress by Donatella Versace's brand, while Kanye wore a smart navy coat layered over a pair of tracksuit bottoms, and finished the look with a pair of his Yeezy trainers. The mother-of-three has yet to reveal whether her husband ever did return the earring