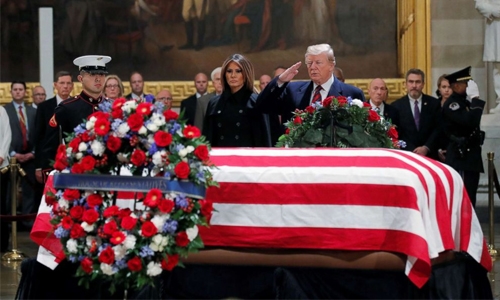 Bush remains lie in state as tributes pour in
The remains of George HW Bush lay in state yesterday at the US Capitol amid a groundswell of tributes honouring the 41st US president. Since Monday evening Americans have been quietly filing past the flag-draped coffin in the Capitol rotunda to pay their respects to Bush, who died Friday aged 94 at his home in Houston.
His passing has led Americans to reflect on his life of duty and service to country as a leader of the so-called "Greatest Generation." Only the second president to see his son follow him to the Oval Office, the Republican stalwart is being honoured with four days of commemorations and services in Washington and in Texas, where he will be buried Thursday.
President Donald Trump is scheduled to attend a state funeral today at Washington National Cathedral -- the first presidential funeral since Gerald Ford died in 2006. Late Monday, after Bush relatives and dignitaries had gone, the president was driven from the White House up to Capitol Hill. With first lady Melania at his side, Trump saluted, and they stood at Bush's casket for about a minute. They exited the rotunda with little fanfare.
Bush never warmed to Trump, and he had let it be known that he did not vote for him in 2016. Trump himself has criticized the elder Bush on campaign trail. But on Monday, Trump wrote members of Congress to hail Bush as a man who "led a life that exemplified what is truly great about America." "President Bush worked selflessly throughout his long life to bring about a world of justice and lasting peace," he wrote.
The White House also extended an invitation to Bush's family to stay at Blair House -- the president's guest house -- while they are in Washington for events surrounding to his funeral.