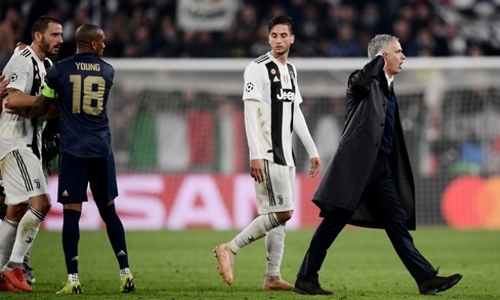 Mourinho hails 'fantastic' comeback
Jose Mourinho hailed a "fantastic victory" after Manchester United stole the thunder of Cristiano Ronaldo and a dominant Juventus with a 2-1 win in the Champions League on Wednesday. A jubilant Mourinho made the most of the last-gasp victory, going onto the pitch at fulltime and cupping his ear to jeers from the crowd, who had earlier cheered former Juventus player Paul Pogba on his return to Turin.
Juventus players Leonardo Bonucci and Paulo Dybala confronted Mourinho with United captain Ashley Young intervening as Mourinho was led off the pitch by a UEFA official. "They insulted me for 90 minutes. I came here to do my job, nothing more," said former Inter Milan coach Mourinho. "I didn't offend anyone at the end, I just made a gesture that I wanted to hear them louder. I probably shouldn't have done it, with a cool head I wouldn't have."
Ronaldo's superb volley -- his first European goal for Juventus -- had put the Italian champions in control after 65 minutes, two weeks after Dybala scored in the only goal at Old Trafford. But substitute Juan Mata's free-kick on 86 minutes sparked a stunning revival that breathed new life into the visitors' Champions League campaign. Juve were then left in shock as Ashley Young's free-kick from the left bounced in off a combination of Bonucci and Alex Sandro after a frantic scramble in front of goal.
It left Mourinho's side just two points behind leaders Juventus with two matches to play in Group H. "It's a fantastic victory for us, a victory that is not just about the points we lost at home but the feeling of how well we played," said Mourinho. "And I think even if this game hadn't ended with victory I would have the same feeling that the team played really, really well from the first minute against a super team."