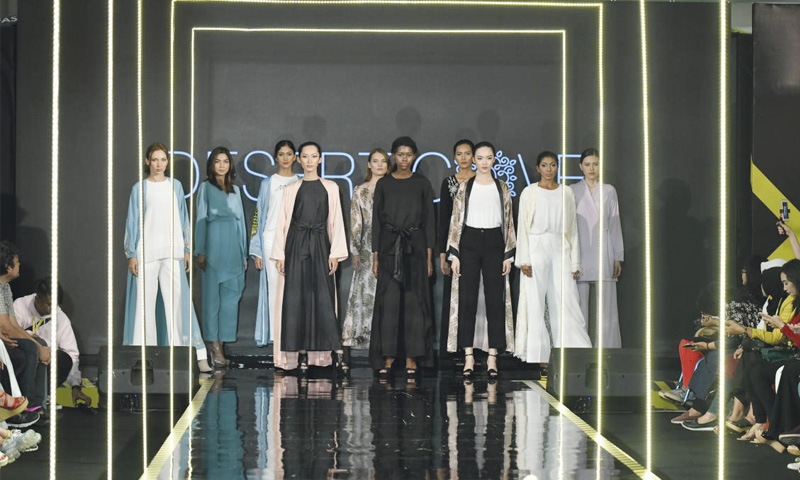 UAE-based designer creates modest fashion at a modest price
Dubai : For many modest fashion designers, it was the difficulty of finding stylish, high-street staples that played a role in why they initially set up shop. For Mosika Zeid, it was during her transition to hijab that she had her very own "a-ha" moment.
"[It] was honestly a fashion disaster," the designer says of her time when she first started to wear a headscarf. "Being someone who was very fashion-conscious, and who loved to keep up with the latest trends and always look their best, I was shocked that I could not find everyday, on-trend modest fashion that had a reasonable price tag." Zeid, 33, is founder and CEO of the UAE-based modest fashion brand Desert Cove. It was as a lawyer that the Australian designer of Palestinian descent made her foray into the world of fashion.
"I was exposed to the fashion industry when I first started working as a lawyer over 12 years ago in Sydney and had some of the largest luxury fashion houses as my clients," Zeid said. "When I came to the UAE, I consulted for some of the largest retailers. Through this I got an even greater insight into the business of fashion, as well as apparel production, sampling, fabrics and the whole process. And I just loved it."
In July 2016, Desert Cove was born. "This was a very soft launch," Zeid said. "The idea was just to test the market response to the concept." Receiving "an amazing response" encouraged Zeid to continue, and now she's working on her third collection. Most recently, her team headed to Indonesia to show at Jakarta Modest Fashion Week. "It was an amazing experience to connect with our South East Asian customers and to confirm that our sisters in that region are interested in Desert Cove," she continued. Another location that's exciting to the designer at the moment is the Kingdom. "Saudi women have an impeccable sense of fashion and style. They are world class, so their requirements for fashion are also world class," says Zeid.
"The fashion scene in Saudi Arabia is undergoing huge changes [and] this means that women are looking for day-to-day fashion inspiration, which meets their amazing fashion sense, while still not compromising on their modesty requirements." For Zeid, Desert Cove's unique selling points are two-fold. "Firstly, we are one of the few brands dedicated to providing hijabis modest versions of the hottest mainstream fashion trends. Plus, we have a $50 price promise on our main collection items, and $100 on our exclusive retailer collections."
Looking ahead, Zeid is now focusing on Desert Cove's upcoming spring-summer 2019 collection, as well as distribution deals and Dubai Modest Fashion Week at the end of 2018. "We have just launched in House of Fraser in Yas Mall in Abu Dhabi and will be having a launch event in store in early October, which we are very excited about," she revealed. Needless to say, Zeid doesn't have any regrets about setting up. "I am so happy that I did launch Desert Cove, as I really do feel that I am contributing to solving a problem that women are facing, helping them to feel better about themselves and lead their most active and productive lives that they can."