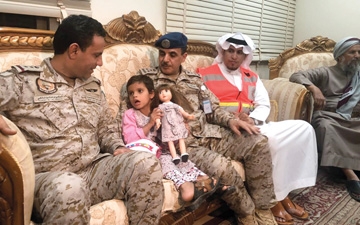 Houthis continue to recruit, use children
A terrorist Iranian-Houthi militia field commander has used his 4-year old daughter as a human shield. "Jameela", who, dressed in boys clothing, found herself as a partner in a military operation, with orders from her father.
Jameela is the latest victim of the Houthi militias' crimes that continue to undermine the stability and security of Yemen, through the use of child soldiers in their illegal tactics. This latest incident further sheds light on the criminal history of the Houthi militias, who forcibly recruit children, and place them on the front lines as human shields.

The United Nations has documented 1,702 different cases where Houthi militias have recruited child soldiers between March 2015 and August 2017. This is despite the minimum recruiting age for the Yemeni military as being 18 years of age.

In December 2016, the Houthis recruited more than 450 children, some of whom were under 13 years of age, from Al Mahwit Governorate, west of Sana'a. Children were kidnapped from their homes, under the guise of an invitation to attend a cultural workshop, by the Secretary-General of the local council and Houthi follower, Mohammed Yehya Abdo, Emirates News Agency (WAM) reported.
Last November, tribal sources revealed that hundreds of children from villages and districts south of Sana'a were taken to training camps to fight, and compensate the Houthi militias with the shortage of fighters, as a result of the successful strikes by the Yemeni National Resistance Forces, supported by the Arab Coalition.

Houthi militias continue to abuse minors, luring them under the guise of religious slogans, and sometimes bribing them with financial support, exploiting the problematic living conditions experienced by their families, and the Yemeni people in general.

According to Yemeni human rights sources, the number of Yemeni children who were forcibly recruited by the Houthi militias reached 10,000 children who were involved in battles against the legitimate government and used as human shields, an illegal practice under international law.

Reports by international human rights organisations have warned against the recruitment of child soldiers as fuel for conflict and war.